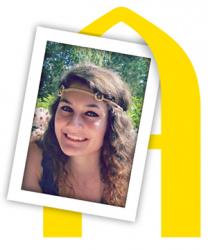 More Than I Imagined
Seniors reflect on accomplishments and look ahead
Danielle Anderson
Graduation year: 2014
Majors: English, religion
Minor: Classics
Activities: Micah House, Longfellow Liberal Arts School tutor, Ekklesia, Interfaith Understanding
Post-grad plans: I would like to attend graduate school for a master of arts in religious studies with a concentration in literature. From there, I'd like to apply to Ph.D. programs and eventually become an undergraduate professor. I would also like to have an interim period where I work with organizations that value community activism, such as the Peace Corps or Lutheran Volunteer Corps.
Why did you choose to attend Augustana?
I chose to attend Augustana because I liked its atmosphere. Every time I came to visit, I felt so welcomed by everyone around me, whether they were faculty, staff or current students. My most vivid memory of such kindness was during my honors interview for Foundations. Katie Hanson was interviewing me for the program, and she could tell I was really nervous, so she sought to make me feel as comfortable as possible. She even offered to walk me to my next stop on my visit tour. People like her helped me decide that Augustana was both a place I wanted to be and a place that wanted me.
Are you where you thought you'd be four years ago? 
Absolutely not! I feel that I am becoming the person I am meant to be, but as a freshman, I had no idea in what ways I would become this person. For one, I had no idea I would be a religion major. Even more unexpectedly, I had no idea that I would study religion and literature together as my vocation. Augustana helped me to realize what I love and how to pursue such love in furthering my education. I am certain that this realization is the greatest gift Augustana has given me and one that will make me the happiest.
Who helped you get to where you are now?
Besides my friends and family, both Dr. Jason Mahn and Laura Mahn have helped me become the person I am today. Dr. Mahn helped me discover my love for religion, and Laura Mahn helped me discover my vocational gifts and what I can do to actively participate in the world around me. Dr. David Crowe constantly inspired me to become both a better person and a better student, and I have greatly benefited from his guidance as my English advisor. The Classics department has also inspired me to become a better student during the final stretch of my college career, and I am grateful to be a part of such a wonderful department.
A peak experience?
My peak experience would definitely be my summer research internship at St. Olaf's Søren Kierkegaard Library. I studied Søren Kierkegaard, a 19th-century Danish philosopher, theologian and self-proclaimed poet. I not only pushed my academic ability as a student, but I also pushed myself outside my comfort zone. This internship helped me to grow as a person, and I wouldn't trade this experience or anything else in the world.
What did you learn about yourself in these past four years that surprised you? 
I learned that I am a lot stronger than I originally thought. I'm also able to face things that scare me with more tact and grace than I would have ever imagined possible.
How did you use your Augie Choice?
I used my Augie Choice for my summer research internship at St. Olaf's Søren Kierkegaard Library.
What will you miss the most?
I will miss the communities I have become a part of both inside and outside Augustana. It will be incredibly difficult to leave behind the people who have helped shape who I am.
Advice for the Class of 2018?
Use your time at Augustana for self-discovery. Find what you love and strive towards your passions. I know that I became so happy at Augustana once I knew myself better. I really believe that self-knowledge not only helps you to love yourself, but also to love those around you, so never stop learning about who you are.
"Danielle didn't discover Classics until the fall term of her junior year. About four weeks into my Roman history class she came to me and said, "I know this is going to sound crazy, but would it be possible for me to do a minor in Classics?" Danielle had a strong background in French, so she was able join the beginning Latin class nearly halfway through the term, and has since learned Greek as well. She's amazing!"