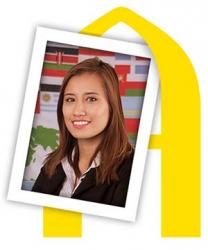 More Than I Imagined
Seniors reflect on accomplishments and look ahead
Daisy Hoang
Graduation year: 2014
Major: International business
Minors: Communication studies, Chinese
Activities: Chi Omega Gamma sorority, UNYK Multicultural Dance Troupe, Global Ambassador
Post-grad plans: Obtain a master's in communication studies at Illinois State University
Why did you choose to attend Augustana?
I wanted to go to a small college in a suburban area, where I would get to know people personally and learn more about American culture. I was introduced to other international students studying here when I applied, and it was helpful to learn about Augie through their perspectives.
Are you where you thought you'd be four years ago? 
Absolutely not. Four years ago, I never would have dreamed how much I would be able to achieve during my college career. I am so thankful for all the leadership experiences from Augustana, for friends from all over the world and for opportunities to learn about myself and my career path.
Who helped you get to where you are now?
Jane Tiedge, my international student advisor, was the first one to welcome me to campus and has been offering me endless support throughout the years with adjustments to American culture. Also, the communication and marketing staff as well as WVIK, Augustana Public Radio, have given me plenty of opportunities to learn valuable skills and prove myself since I started working there. And of course, my parents and my sister. Even though they are thousands of miles away in Vietnam, they have always provided me with emotional support and encouraged me to take advantage of opportunities.
A peak experience? 
My peak experience was to help organize the International Street Fest. We put months of effort into planning activities, including the International Fashion Show, World Showcase and Food Festival. The event had a great turnout from both students and the community, and I felt extremely proud to have been able to represent my country and introduce other cultures to the Augustana community.
What did you learn about yourself in these past four years that surprised you? 
I didn't have an interest in studying communication when I started college. And if you asked me just three months ago, I was so sure about my plan to pursue an MBA in the States. But I have realized through my work in communication and marketing, my internships and my communication studies minor that I can be good at communication, and I have enjoyed every single minute of studying communication and working in the field. I am looking for a career that will combine my communication and business skills.
How did you use your Augie Choice?
I used Augie Choice for my summer internship at OnMedia to help cover my expenses while staying in the Quad Cities.
What will you miss the most?
I will definitely miss all the waves and greetings from other students while walking on campus. Everybody at Augustana is so friendly and open-minded, and I was lucky to be surrounded by them.
Advice for the Class of 2018?
Try new things and get involved. You will learn a lot about yourself.
"Daisy's ability to incorporate her background in Vietnam into the classroom and apply these experiences to complex business situations has helped her grow as a student, thinker and future business leader. Other students have learned from topics she has raised in class discussions, and many reported that Daisy made the global business environment 'real' for them. I look forward to following her career as she grows from recent college graduate to leader in the business world."