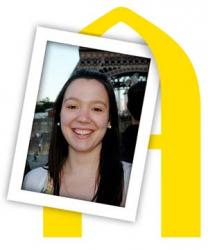 More Than I Imagined
Seniors reflect on accomplishments and look ahead
Christina Dekker
Graduation year: 2014
Majors: Music, sociology
Minor: Spanish
Activities: Symphonic Band, Sigma Alpha Iota (international music fraternity)
Post-grad plans: Marketing assistant at Chick-fil-A
Why did you choose to attend Augustana?
The music department was the clincher for me. I immediately loved the campus and the people, but the music department held a high standard (and still does) and was immediately my home.
Are you where you thought you'd be four years ago? 
Definitely not. I changed my major, and therefore my entire post-grad plan, plus I'm staying in the Quad Cities instead of moving back to Chicago.
Who helped you get to where you are now?
Dr. Lambrecht, Mrs. Lambrecht, Dr. Croll — all my professors and advisors who listened to me talk. They help me process the thoughts that get jumbled in my head, and I couldn't have found my place without their guidance.
A peak experience? 
When I was a first-year student the Symphonic Band went on tour to Italy. Spending 10 days with my best friends in a beautiful country playing amazing music to incredible audiences — it will forever be a highlight of my Augustana experience.
What did you learn about yourself in these past four years that surprised you? 
I have learned that I don't have to have it all together to keep moving forward. Plans change, and sometimes things are just unknown. No matter what, life keeps going and you figure it out someday! (maybe)
How did you use your Augie Choice?
I studied abroad in Paris — music and literature — for five weeks over the summer with Dr. Hall and Dr. Gillette. A dream come true!
What will you miss the most?
Getting to do life so closely with some of my best friends and the best people (students and faculty) I know.
Advice for the Class of 2018?
Don't be afraid of change. It's good to have plans and goals, but they'll probably change — let them!
"Christina Dekker epitomizes the liberal arts journey. While double majoring in music and sociology, she has been involved in many aspects of these departmental programs as well as working and volunteering outside of the Augustana community. She is the ultimate 'people person.' She is not only every professor's dream student — hard working, independently curious, consistently prepared and self-motivated — but also someone who leaves others feeling positive and inspired."