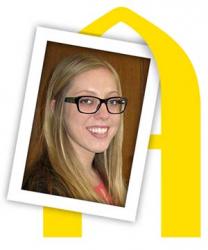 More Than I Imagined
Seniors reflect on accomplishments and look ahead
Chrissy Kunkel
Graduation year: 2014
Majors: English, communication studies
Activities: Alpha Phi Omega national service fraternity, Camp Kesem Augustana
Post-grad plans: I will attend graduate school for my master's in communication studies. I am still waiting to hear back from other schools, but I have received admission at Johns Hopkins University. I have not yet decided whether to pursue a Ph.D. or search for a career in the field of communication/public relations after graduate school.
Why did you choose to attend Augustana?
I chose Augustana because of its strong reputation as an academic institution and the small size that facilitates closer relationships between students and faculty. However, it was the gorgeous campus that really sealed the deal. I felt at home immediately on my first visit!
Are you where you thought you'd be four years ago? 
If someone asked me four years ago whether I would be eagerly waiting to attend graduate school next year, I would have laughed. I didn't even know for sure what my major would be, and now I'm graduating with two! I am so excited to use all I've learned in grad school and beyond. The liberal arts education I've received at Augie has given me not only factual knowledge, but also more insight about myself and the world around me.
Who helped you get to where you are now?
So many people have helped me the last four years — family, friends, peers, faculty. The majority of my gratitude goes to the professors at Augie who go above and beyond to ensure that all of their students are doing all they can to be successful.
A peak experience? 
I have had two peak experiences at Augustana. Studying abroad in Ireland was educational, beautiful and taught me so much about the world and our own society. I made some of my best friends in college on that trip. A second peak experience was my summer research fellowship studying representations of female empowerment in HBO's "Game of Thrones." The school funded a trip to Marist College in New York so I could present my research at the Women & Society Conference this past October, which was such a rewarding experience.
What did you learn about yourself in these past four years that surprised you? 
College has given me a sense of independence, courage and confidence. I had no idea that I was capable of living in a foreign country for a term or conducting my own research projects!
How did you use your Augie Choice?
I used it to study abroad in Ireland.
What will you miss the most?
It's hard to pick just one thing. Probably the people I've developed relationships with throughout the last four years — I've become very close to so many of my peers and professors. I'll also miss the beauty of the campus, particularly during fall and spring!
Advice for the Class of 2018?
Take advantage of all the opportunities Augie offers and don't sell yourself short. There were so many amazing experiences I could have missed out on if I hadn't been confident to put myself out there and go for it!
"Chrissy has taken advantage of unique opportunities to work closely with faculty on exciting original research projects at the intersection of rhetoric, media and gender. She has already presented her work on women in 'Game of Thrones' at one national conference, and is preparing to present on Michele Bachmann's presidential campaign rhetoric at another national conference this spring! This experience makes her a competitive candidate for top-tier graduate programs in communication studies."