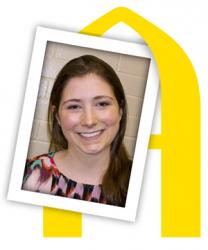 More Than I Imagined
Seniors reflect on accomplishments and look ahead
Catherine (Cat) McDermott
Graduation year: 2014
Major: Biology-pre-medicine
Activities: Omicron Delta Kappa national leadership honor society, Micah House Intentional Living Community, Alpha Phi Omega service fraternity, Educational Policies Committee, Mortar Board
Post-grad plans: Either work in research for a bit or immediately begin medical school; I'm still figuring that part out.
Why did you choose to attend Augustana?
The strong biology department and small size was what originally caught my attention, but the friendly campus environment is what convinced me to come to Augie. The students, faculty and staff were all so welcoming and kind!
Are you where you thought you'd be four years ago?
Over these past years, I've grown in countless ways. I came to Augustana thinking that I wanted to pursue veterinary medicine and worried about making new friends. I'm leaving with an acceptance to medical school and a great group of friends that I'll have for the rest of my life. I never expected to have had the opportunity to live in an intentional community, do research in Denver and Houston or to meet so many wonderful people. My experiences at Augie have exceeded all of my expectations and then some.
Who helped you get to where you are now?
Who hasn't helped me is really the question. Without the support of my friends, family, professors and staff there is no way that I would be where I am today. I am continually amazed by how much the faculty and staff here are willing to lend an ear, offer advice or help me solve a problem. From "Where do I get a new alternator" to "Oh my gosh, what am I going to do with my life," the support I've received while I've been at Augie has been nothing short of amazing. My friends and family have stuck with me through thick and thin, and I feel so lucky to have so many great people in my life.
A peak experience?
I've had so many great experiences, there's no way I can just choose one. I've been able to spend my past two summers doing immunology research where I've grown as a person and as an academic, I've lived in Micah House which has allowed me to foster some great relationships and allow me to learn a lot about myself and my communities, and take some really cool classes in subjects that I would have never thought I would have enjoyed.
What did you learn about yourself in these past four years that surprised you?
I've been amazed by my resilience. There have been a handful of times where something has happened and I've had to figure out a plan to make things work. At the time, I doubted my ability to pull through, but with the help and support of people at Augie, friends, and family, my success rate of "pulling through" so far has been pretty good.
How did you use your Augie Choice?
I used my Augie Choice to pay for housing while I did research down in Houston through Augustana's Texas Medical Center Summer Research Internship Program. 
What will you miss the most?
I will miss the Augustana community the most. My best friends, mentors and advisors are all within walking distance!
Advice for the Class of 2018?
Ask questions, go outside your comfort zone, put yourself out there! This is a great time to figure yourself out: your skills, passions, weaknesses, etc. There are tons of people around you to help, all you have to do is ask. Sometimes asking the scariest questions yields the most rewarding results.
"Cat is naturally gifted, well-rounded and has such an instinct for learning. She exhibits an extraordinary level of determination and purpose that serves as the foundation for her success in and out of class. Furthermore, Cat's experiences conducting laboratory research have not only helped bridge her understanding of biology and medicine, but also had a profound impact on her future goals. I am fortunate to have been part of Cat's journey at Augustana."