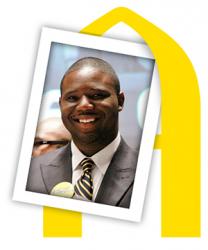 More Than I Imagined
Seniors reflect on accomplishments and look ahead
Cameron Onumah
Graduation year: 2014
Majors: Communication studies, political science-pre-law
Activities: Student Government Association, Black Student Union, Rho Nu Delta, WAUG student-run radio station, and numerous college boards and committees
Post-grad plans: I will be moving back to my hometown of Los Angeles and pursuing a number of professional interests. I eventually plan to go to graduate school.
Why did you choose to attend Augustana?
It just felt right. Augustana was not at the top of my list when I began my college search. However, it quickly became clear to me that this would be a place were I could grow both academically and as a person. I have loved every minute of it.
Are you where you thought you'd be four years ago? 
That's hard to say. I am moving in the direction that I hoped I would, and that is all because of my time at Augustana.
Who helped you get to where you are now?
I have been lucky to have a lot of people who were willing to put up with me over the years. Dean Mark Anderson has been immensely supportive of me throughout my college career; he has treated me like family, and I am so thankful for his being there for me. Dean Campbell and President Bahls have taught me so much about leadership and not being afraid to make tough decisions. In the classroom, I am grateful to have had such awesome professors like Steve Klien and Wendy Hilton-Morrow from communication studies and Lendol Calder in history. I would not have been able to intern in Los Angeles this term had it not been for Dr. Chris Whitt and the political science department, who went out of their way so that I could work on part of my Senior Inquiry from home. Finally, and most importantly, my wonderful family and my unbreakable faith in God have helped me get to where I am today and where I will be in the future.
A peak experience? 
It has been an honor and privilege to serve my fellow students as president of the Student Government Association for the last two years. Winning that first election my sophomore year against two very tough and perhaps even better-qualified candidates than myself is surely my most peak experience. I have helped to make our college better for our students and personally I have been afforded opportunities that I otherwise could have only dreamt of.
What did you learn about yourself in these past four years that surprised you? 
I thought I wanted to be a lawyer when I first came to Augustana. While that is no longer the case, I am happy that I was able to explore law while at Augustana and realize that it was not for me before choosing to pursue a profession that I would not have been happy with. 
How did you use your Augie Choice?
The summer before my junior year, I used my Augie Choice funds to intern with the Democratic Party. This was an amazing experience and would not have been possible without Augie Choice.
What will you miss the most?
The sense of community, which is one of the things that made me decide to come to Augustana four years ago.
Advice for the Class of 2018?
Don't get too comfortable. These four years are going to fly by, so be sure to take advantage of everything college has to offer. Intern, study abroad, join as many groups as you can positively contribute to, and have fun. I have found that the best way to do that is to not be afraid to go outside of your comfort zone and take risks.
"It's easy to think that Cameron is just a natural-born leader. People respond to his confidence, charisma and genuine commitment to student causes. However, leaders are made, not born. From studying political science and communication studies to serving at the helm of SGA, BSU and WAUG, Cameron has been intentional in developing his leadership skills while at Augustana. I can hardly wait to see the positive impact a strong leader like Cameron can make in the world!"