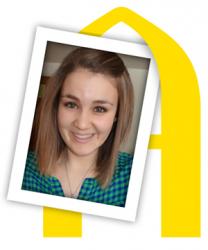 More Than I Imagined
Seniors reflect on accomplishments and look ahead
Amy Maplethorpe
Graduation year: 2014
Major: Communication sciences and disorders
Activities: Residential Life; Augustana Student Speech, Language, and Hearing Association; National Residence Hall Honorary; Mortar Board; Omicron Delta Kappa (leadership honor society)
Post-grad plans: Attend Eastern Illinois University to study speech-language pathology
Why did you choose to attend Augustana?
Studying speech-language pathology has been a goal of mine since middle school. Augustana's communication sciences and disorders program was extremely appealing, especially with the clinical opportunity specifically for undergraduates. I knew this would help me take the first steps in accomplishing my goal.
Are you where you thought you'd be four years ago? 
I never imagined how involved I would become in college with various campus groups and organizations. Each activity has helped me grow in a different way and has provided invaluable experiences.
Who helped you get to where you are now?
My parents have been my biggest support system. These two people have believed in me and my dreams, which makes me even more determined to make those dreams a reality. My mom and dad have been with me every step of the way throughout my journey, and am I so grateful to have such involved parents.
A peak experience? 
For three years, I have been a member of Residential Life. During my sophomore and junior year, I was a community advisor in Andreen. During senior year, I have been the assistant residence director of Erickson. The relationships I have built through these positions have made it a peak experience; many of my best friends from college are due to my time with Res Life!
What did you learn about yourself in these past four years that surprised you? 
These past four years have helped me learn that it is important to try something new, even when I was worried it would be quite challenging. As a first-year, I joined Clogustana even though I had no dance experience. It was an opportunity to learn a fun skill and prove to myself that I can accomplish things that I never imagined possible.
How did you use your Augie Choice?
During spring break 2014, I traveled to Guatemala with the Childhood in the Developing World class through the psychology department.
What will you miss the most?
I will miss the people of the Augustana community the most. It has always been comforting that no matter where I went on campus — a walk through the library, a basketball game or the lobby of a residence hall — I always saw a friendly face.
Advice for the Class of 2018?
Don't be afraid to step outside of your comfort zone, whether that entails joining a group you are unsure of, saying "hi" to a person down the hall from your room or choosing to add a minor. That one step can open the doors to so many possibilities.
"Amy is a delightful, dedicated student, who demonstrates a great level of commitment and passion for communication sciences and disorders. In addition, she has been a fantastic leader on campus, serving as a community advisor and this year as an assistant residence director. Her interpersonal skills and reliability are truly remarkable."