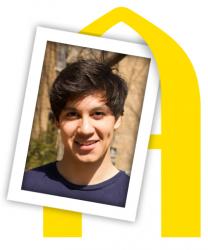 More Than I Imagined
Seniors reflect on accomplishments and look ahead
Alvin Fonseca
Graduation year: 2014
Major: Multimedia journalism and mass communications
Minor: Spanish
Activities: Business Club, Black Squirrel Productions (founder), Phi Omega Phi fraternity, student-run radio station WAUG, Augustana Observer
Post-grad plans: Attend grad school for filming
Why did you choose to attend Augustana?
I chose Augustana because I could get involved with various extra-curricular activities, and the opportunity to study abroad attracted me. Also, all of the professors that I met made a big impact on me.
Are you where you thought you'd be four years ago?
Four years ago, I couldn't tell you where I'd see myself. I had always thought of myself as someone going to a big school, but since I've been enrolled at Augustana, I've made the most of all the opportunities I've been gifted with.
Who helped you get to where you are now? 
I've been blessed with the opportunity to have my parents' full support and their faith that I will graduate from college. Also, a huge shout-out to Johnna Adam, former director of the Internships and Career Office, who hooked me up with several internships throughout my career at Augustana, and Professor James Dyer, who was not only an outstanding professor, but also a great mentor and close friend.
A peak experience?
Winning the Intramural Soccer Championship with my brothers and closest friends as the eighth-seeded team in the tournament, going to penalty kicks in two games leading up to the championship and scoring the winning goal in the final minutes of overtime in the championship game. It was beautiful.
What did you learn about yourself in these past four years that surprised you?
I learned that I am more than capable of maintaining a successful academic career while balancing my extra-curriculars and social life.
How did you use your Augie Choice?
I used my Augie Choice to study abroad in Brazil.
What will you miss the most?
I will miss all the memories and friends I made during my time at Augustana and Taco Tuesdays at the Roadhouse.
Advice for the Class of 2018?
Make sure you get out of your comfort zone and keep an open mind when meeting new people. There's a ton of things to do around campus; you'll be surprised at what you might find. Also, don't skip class.
"Some students find it hard to juggle their academics and outside-of-class activities. Alvin will tell you that they can work hand-in-hand and that you just need balance. His creative side led him to photography and film work (being on the ground floor of a new film club)...while his strategic side drew him in to my challenging public relations course and to our advertising competition team. I am pretty sure we will see his creative side play out on a screen in the near future."