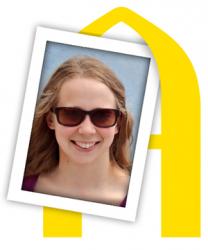 More Than I Imagined
Seniors reflect on accomplishments and look ahead
Sarah Ebener
Graduation year: 2013
Majors: Secondary education, English
Activities: Alpha Psi Omega (national theater honor society)
Post-grad plans: Find a position teaching high school English, hopefully in the Quad Cities.
Why did you choose to attend Augustana?
Augustana was one of my top choices for many reasons. I loved the small class sizes, the beautiful campus, the friendly atmosphere and the fantastic education program. However, the scholarships I got from Augie really pushed it to the top of my list. With the scholarships and the financial aid I received, Augustana turned out to be cheaper than all of my other public and private school options.
Are you where you thought you'd be four years ago? 
Somewhat. I actually never changed my major since declaring it in my first year, but I think that I have more of a solid grasp on why I want to teach through the help of the education department and the opportunities I have had to teach in different classrooms.
Who helped you get to where you are now? 
Katie Hanson was probably the most helpful person during my time here. She has been my advisor since I declared my major, and she must be one of the most hands-on advisors at Augie — she's more like a life and career coach. She and many of the other professors in the education department have been invaluable to me.
A peak experience?
My peak experience was, without a doubt, my student teaching this past winter. It was such a positive experience for me because I enjoyed going into the classroom and seeing my students every single day, which was a really good sign because it helped to show me that I am going into the right career. 
How did you use your Augie Choice?
I used Augie Choice to pay for a large portion of my study abroad trip to Greece. The academic scheduling for secondary education majors is very tight, so I was fearful that I wouldn't be able to fit in space for a study abroad trip. However, I was ecstatic when I found out I would be able to take just one class in the spring of my junior year and then travel around Greece for two weeks. This was a life-changing experience since I had never been abroad before, and I learned a lot of things that will be helpful to me in my future classroom.
What did you learn about yourself in these past four years that surprised you? 
I learned that I am actually pretty creative, which I probably would not have guessed since I think I am awful at creative writing. But I have found that I like coming up with new ideas, especially ideas for lessons or activities for the classroom. I love when I am struggling with a paper topic for a class and then a creative light bulb clicks on with what I think is a brilliant idea; then I will just sit down for hours trying to hash out my ideas on the page.
What will you miss the most?
I think I will probably miss the environment at Augie. In combination with our beautiful campus, I feel that we have a very friendly student body, faculty and staff. I like being able to walk around campus and smile to friends and professors who I run into. Also, as a future teacher, it has been nice to be involved in a strong community of learning.
Advice for the Class of 2017?
Take advantage of Old Main once it is renovated. I'm sad that I won't get to have another class in that beautiful building.
"One of the best perks of my job as a professor is serving as an advisor. I love it because I get to know students like Sarah. I have seen her grow into a confident, creative, excellent teacher. I will be sad to see Sarah graduate because we have had many lengthy conversations about literature and life. I count Sarah as a friend, who hopefully will keep me posted about her future successes."