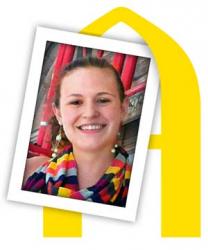 More Than I Imagined
Seniors reflect on accomplishments and look ahead
Robin Quinn
Graduation year: 2013
Majors: English education, theatre arts
Activities: Chi Alpha Pi sorority, Alpha Psi Omega (national theatre honor society), Augustana Choir, Admissions Ambassador
Post-grad plans: Teach English and drama
Why did you choose to attend Augustana?
I chose Augie for the abundance of opportunities. After performing in Carnegie Hall, traveling to Germany, teaching in three different local schools, and volunteering locally, it's clear to me that I made the right choice. 
Are you where you thought you'd be four years ago? 
Not at all! I thought I was going to study music, but my freshman year LSFY class helped me find my passion for literature, which is part of why I switched to English ed. I never anticipated to have grown so much in four years; I know who I am and what it is I want out of life...18-year-old Robin never could have claimed that. 
Who helped you get to where you are now? 
I owe a lot to my academic advisors as well as my professors. The one-on-one attention they provided helped me flourish and discover my strengths. I always felt supported in my academic endeavors. My friends on campus also helped me by sharing their love and support in all things. In choir, on the Quad or at the gym, I always run into a friendly face, and that has been a comfort to me during my college career. 
A peak experience?
Traveling to Germany with the Augie Choir gave me a whole new perspective on life. I made some close friends there who I'm still in touch with, and the intercultural conversations have shown me that there are so many different lenses through which to view situations. I always consider the other sides now, and it's made me a more well-rounded person.
How did you use your Augie Choice?
I used my Augie Choice to cover my trip to Germany my junior year.
What did you learn about yourself in these past four years that surprised you? 
I learned that I'm a way more independent person than I thought. I just feel confident in who I am.
What will you miss the most?
I'll miss my professors. They're quirky, personable, brilliant and some of the best role models I could have asked for. I learned so much from them academically, but it's the life lessons they taught that will really stick.
Advice for the Class of 2017? 
Take advantage of every opportunity that comes your way: Sled on a cafeteria tray. Kiss under the Bell Tower. Attend a free concert or athletic event. Write a letter to the editor. Explore the Quad Cities. Take a class just for fun. And never say no to a trip to Whitey's.
"I have had Robin in several classes, and I am her academic advisor. It has been fun to watch her teach in area schools and perform in productions on campus. Robin has poise and passion, creativity and determination. She is a talented student who makes teaching at Augustana College the best job I could imagine. I look forward to keeping in touch after graduation so I can follow her sure-to-be-successful future."