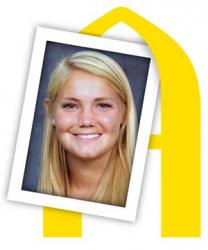 More Than I Imagined
Seniors reflect on accomplishments and look ahead
Rachel Lenke
Graduation year: 2013
Majors: Political science, communication studies 
Minor: Art
Activities: Varsity soccer, Phi Rho sorority, Phi Beta Kappa
Post-grad plans: Master of public policy program at Loyola University–Chicago
Why did you choose to attend Augustana?
Augustana offered me the opportunity to pursue a variety of my interests. I have been on the women's soccer team for four years; I have an art scholarship that has provided me with an art minor; I am in a sorority; I work on campus; and I have traveled around the United States and to four countries abroad, just to name a few of the opportunities provided to me.
Are you where you thought you'd be four years ago? 
I had no idea where I would be at the end of four years of college, but I could not be more excited about where I have ended up. In my time at Augie, I have pushed myself as a student, as an athlete and as an individual. Looking back on the last four years, I can truthfully say I am proud of who I have become, and I feel prepared to take on the challenges that lie ahead of me.
Who helped you get to where you are now? 
My parents have been incredibly supportive of my ambitions and have encouraged me to take advantage of every opportunity Augie has to offer. My professors have offered me wonderful guidance, and my advisor, Mariano Magalhães, has provided me with learning opportunities, advice and guidance that have made me the person I am today.
A peak experience?
I have been fortunate enough to experience a variety of 'peak experiences' while at Augie, and the most notable definitely include my travel experiences. I traveled to California, Washington, France, Italy and Spain with the Augie soccer team during my four years, and these were unforgettable experiences. I also traveled to Brazil in my junior year for a travel abroad term and returned again that summer to conduct research and complete my Senior Inquiry project. 
How did you use your Augie Choice?
I used my Augie Choice money the summer before my junior year to fund part of my soccer trip to Europe.
What did you learn about yourself in these past four years that surprised you? 
I have shocked myself in my accomplishments within the last four years, and I have learned that my potential and abilities far surpass what I ever anticipated for myself. Augustana has allowed me to discover my true passions, and I am now prepared to pursue a future that I would never have expected when I arrived on campus my freshman year.
What will you miss the most?
I will miss my friends and roommates the most when I leave campus. I have made some incredible friendships, and I know it will feel very strange not seeing these people every day.
Advice for the Class of 2017?
Do not wait until your sophomore year to try something new or to get involved. Be brave and put yourself out there from the moment you step on campus.
"Rachel easily makes the list of the top 10 students I've had in the past 15 years. It has been so incredibly rewarding working with Rachel over the past year and half, as her advisor and mentor, and to see her blossom into a top-notch scholar, presenting her Senior Inquiry project on domestic violence in Brazil at three conferences, including the second largest political science conference in the United States."