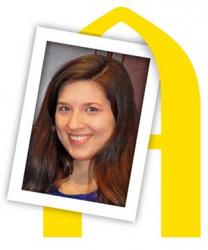 More Than I Imagined
Seniors reflect on accomplishments and look ahead
Rabia Jawed
Graduation year: 2013
Majors: Biology, pre-medicine, neuroscience
Activities: Alpha Phi Omega service fraternity, Beta Beta Beta Biological Honor Society, Circle K International, Mortar Board, Omicron Delta Kappa, South Asian Student Association
Post-grad plans: Attend Midwestern University in Downers Grove, Ill., to pursue a Doctor of Osteopathic Medicine (D.O.)
Why did you choose to attend Augustana?
After attending a large high school, the small size of Augustana combined with the strong biology department and beautiful campus made it an easy decision.
Are you where you thought you'd be four years ago? 
Yes, for the most part. I've always known I wanted to be a physician, but I never could have imagined how much my experiences though Augustana have changed me, both as a student and as a person.
Who helped you get to where you are now? 
My parents. They have always been the most supportive of all my dreams and ambitions, and encouraged me to always put my best foot forward. The faculty has also helped me learn more than I thought possible — especially Dr. Gehler, Dr. Lee and Dr. Storl — who entertained all of my questions outside of the syllabus and prompted me to really think about my views. 
A peak experience? 
Traveling to Rome in 2011 and participating in the Texas Medical Center Internship Program were life-changing experiences. In Rome, I was able to see the history I studied in the classroom come to life, all while experiencing a different culture. Because of Rome, I have a greater appreciation for history, Catholicism and the Italian culture. In Texas, I learned what it meant to be a practicing physician and conduct research. Because of Texas, I became a better researcher, a better thinker, and I am sure the skills I learned will help me become a better physician. 
How did you use your Augie Choice?
I used Augie Choice to participate in the Texas Medical Center Internship Program in Houston.
What did you learn about yourself in these past four years that surprised you? 
I have learned that I can accomplish and learn more than I ever thought possible, as long as I set my mind to it.
What will you miss the most?
I will definitely miss my interactions with the faculty, and my friends.
Advice for Class of 2017?
Don't be afraid to join clubs outside of your discipline, explore your options and don't limit yourself socially.
"I learned to know Rabia when as a sophomore she participated in the Rome program that I direct. A year ago, she took the medical ethics class that I teach. The paper that she wrote on accountable care organizations was absolutely first-rate, as was her performance on exams and participation in class discussion. Rabia exemplifies the value of a liberal arts education for those anticipating careers in health care. Her breadth of perspective, compassion and genuine concern about the well-being of others will be real assets throughout her career."