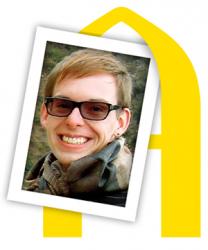 More Than I Imagined
Seniors reflect on accomplishments and look ahead
Neal Shipley
Graduation year: 2013
Majors: English, sociology- social welfare
Minor: Women's and gender studies
Activities: Gay-Straight Alliance, Saga Art & Literary Magazine, Hillel, Augustana Observer, Phi Beta Kappa
Post-grad plans: I hope to find a job in the social services in the Quad-City area, move into a swanky but affordable apartment with one of my best friends, and start 'living life' for a few years before pursuing a graduate degree in poetry. 
Why did you choose to attend Augustana?
My middle school choir teacher is an Augie alumna, and if I remember anything from choir, it's the Augie poster that hung in the back of her classroom. When it came time to start looking for colleges, I decided to check Augustana out simply because I liked my choir teacher, and so logically figured Augustana would be a cool place. After visiting campus, sitting in on a few classes and doing an overnight, I just knew Augustana was 'right.' Although I applied to a few other schools, Augie was by far my top choice.
Are you where you thought you'd be four years ago? 
Yes and no. I came to Augie dead set on being a sociology major, and becoming a social worker — and lo and behold, that's exactly what's happened. However, the 'liberal arts experience' also helped me foster and further my love for literature, and influenced my choice to become an English major — this also led me to meeting our fantastic creative writing faculty, and encouraged me to start writing 'seriously.' Since then, my poetry has been featured at local exhibits and readings, and I have also been published to a few national poetry reviews. That's a path I could never have planned to take, but am so incredibly happy to have been led down.
Who helped you get to where you are now? 
Pretty much every member of the English department. Professors Wee, Bertram and Marklevitz all helped me 'become' a poet, and have since continued making me a better one. Dr. Youngberg is the reason for my absolute love of English drama (which I may someday pursue a graduate degree in), taking a class with Dr. Greene whipped my critical and academic writing into shape — and this list could go on for pages. I must also tip my hat to our small but mighty sociology/WGS department — Drs. Croll, Sommer, Smith, Simonsen and Kivisto — for being fantastic not only as professors, but also mentors, and helping me find not only a major, but truly a career path that I'm very excited for.
A peak experience?
Hands down my study abroad term to Vietnam with Drs. Ericson, Crowe, Baugus and Hanson. Each of the professors brought their own passion for the country (be it the literature, people or country itself) that made traveling a truly immersive experience, because as a group we were just entrenched in everything the culture and country had to offer. It was also so incredibly fun to be with a group of people I had never met, and probably would have never considered 'hanging out' with under normal circumstances. Traveling together, we formed entirely unique friendships that have survived even after returning to campus. I'd experienced international travel before going to Vietnam, but the study abroad term is such a unique, rich experience that I know can never again be replicated.
How did you use your Augie Choice?
Over this past summer I had an internship at a not-for-profit LGBTQ community center in the Quad Cities. Since the internship was unpaid, I was able to use Augie Choice as a stipend to cover my living costs during the summer months.
What did you learn about yourself in these past four years that surprised you? 
I've learned just how tough I am. The 'college experience' demands a lot mentally, emotionally, socially and sometimes physically — and I've been able to withstand it all. I was not an impressive high school student. I didn't try hard at most things I liked, and I really couldn't give two wits about the things I didn't like. But since getting to Augie, something about that has changed. First off, I find myself truly interested in almost everything I pursue (probably the benefit of our amazing professors), and second, I find myself pursuing those things wholeheartedly. It's been challenging, to say the least. But also so very rewarding.
What will you miss the most?
The various staff that I've gotten to know over the past four years; facilities workers, dining hall staff and building secretaries. They are not only essential to the college's successful functioning — they truly care about their jobs, and they truly care about us. While classes, professors and the students I see around campus change from term to term, I can always find the staff in the same places, usually at the same times. It's a small comfort, but it goes a long way. They've all taken the place of 'moms' and 'dads' over the past four years; asking how the day went, how I like my classes, and telling me to eat more, I've gotten too thin.
Anything you want to add that we didn't ask about?
My advisor, Rebecca Wee, tells all her classes that, 'even if you don't want to go to something, just go,' because you will never be in a place where you have access to so many things — lectures, concerts, art shows and the like — usually for free, in one place. So it's true — even if it doesn't sound like your cup of tea, even if you'd rather stay in bed and watch movies all day, go to campus events. Usually, you'll end up glad that you did.
"'Do you know what 'diamanté' is? Is this one?' That's the first Neal Shipley question I recall; he was a first-year student at the first After Hours Poetry and Prose meeting of 2009, and he was handing me a diamond-shaped poem. Two semesters later, Neal received the Eddy Mabry Diversity Award for his poem 'In Hopes it May Stop Sounding Queer to You.' More than any student I've worked with, Neal has taken advantage of, and contributed to, Augustana's curriculum and faculty, campus and student life. He's taking the last of several independent studies he's done in poetry, and I am impressed again with the questions he asks, the schedule he keeps, and the many awards and recognitions he has earned here, including the deep admiration and respect of his peers, employers and professors."