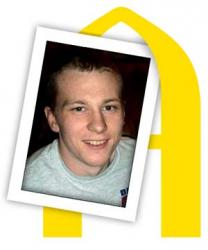 More Than I Imagined
Seniors reflect on accomplishments and look ahead
Matt Burns
Graduation year: 2013
Major: Business administration-marketing
Minor: Chinese
Activities: Wrestling, Rho Nu Delta fraternity
Post-grad plans: Get a job in either the Quad Cities or Naperville; possibly teach English in China.
Why did you choose to attend Augustana?
A big reason I chose to attend Augustana was because I wanted to wrestle. I wanted to go to a place where I could still compete in the sport I loved. I also enjoyed the campus and knew a few people who had been here before who liked it. I knew it was a good academic school and thought that now I can get a good education and compete in sports.
Are you where you thought you'd be four years ago? 
I have come a long way from where I thought I would be. I managed to be an All-American in wrestling and be a major influence on the team. I also ended up joining a fraternity my freshman year, something I never thought I would do. I came into this school with no idea what I wanted to do. Through my classes I was able to figure out some of my passions and decide on a major and minor.
Who helped you get to where you are now? 
I think a big influence on me would have to be my coaches Eric Juergens and John Fotos. They have had a major influence on me through my years here. Also, my roommates and friends I have been with pretty much my whole time at college. They have helped me get through some rough times, and I've been able to pull myself on top. I can't imagine doing it without them.
A peak experience?
For my sports, I would have to say it was the match to become an All-American. I was able to come back from being down and pull it out in the last seconds. I found out afterwards that a bunch of my friends and family had been watching it online. It was really cool to see how many people cared about what I was doing. That was probably better than winning, just knowing I had all that support.
What did you learn about yourself in these past four years that surprised you? 
I learned I can basically enjoy anything. If you have the right attitude about it, and stay positive, you can turn almost any experience into something positive. You have to cherish even some of the tougher aspects of your life, or else you will drown in your own worry and stress. It has opened me up to do a lot of things I thought I would never do before and has made my college experience all that much better.
What will you miss the most?
The Snack Shop at the College Center and the good times we had in it.
Advice for the Class of 2017?
Do your homework your freshman year. It is really easy to prioritize all the new college experiences over your schoolwork. But doing your homework early will definitely pay off. I have seen too many people forget about their schoolwork and mess themselves up later in their college career.
"For someone who came in as an unknown in terms of accolades, Matt leaves Augustana as a two-time national qualifier and an All-American in wrestling. He became my second All-American in my career as a coach. I feel Matt epitomized not just what I coach, but also what I preach — understanding the sport, making people wrestle your match, and never giving up. He was a great kid not just ON the mat, but also OFF. I never had to worry about issues that might distract him from school and wrestling. He was a polite gentleman to those around him. Combine that with being a natural leader in terms of working hard and setting the example, and it is easy to say I will miss having Matt on our team very much."