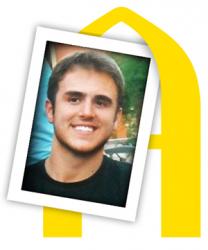 More Than I Imagined
Seniors reflect on accomplishments and look ahead
Mason Kienzle
Graduation year: 2013
Majors: History honors, education
Minor: Classical studies of Latin
Activities: Phi Omega Phi fraternity, History Club and Order of Omega
Post-grad plans: Graduate school for history or possibly teaching or law school
Why did you choose to attend Augustana?
I chose Augustana because of the size of the student body, the personal interaction with professors, the campus and the liberal arts education.
Are you where you thought you'd be four years ago? 
My perspectives and interests regarding many things have changed. I also feel a lot more confident and prepared for my future.
Who helped you get to where you are now? 
I have had a great experience with all of my professors here at Augustana and enjoyed their classes — especially Dr. Kramer, Dr. Warren, Dr. Ellis, Dr. Hooker, Dr. Lee and Dr. Schroeder, who each have offered me great insight in the classroom and great advice outside of it. Each of them is a great example of how to approach a liberal arts education and how to truly appreciate academic scholarship.
A peak experience?
Researching and putting together my history honors capstone with Dr. Kramer. I really enjoyed the project and learned a lot from it.
How did you use your Augie Choice?
I went to Rome with the Augie summer program led by Dr. Lee. It was a great trip!
What did you learn about yourself in these past four years that surprised you? 
I learned that I have a deep appreciation for historical studies. I also learned how to truly commit myself to my studies.
What will you miss the most?
I will miss the tight-knit community, friends, professors and the campus the most.
"I met Mason for the first time as a student in my Roman History course. He got my attention by the way he really seriously interacted with the material. He's been the same in every class since, and that serious approach is currently on display in his work on his senior thesis. I'm thrilled that Mason will be spending this summer excavating at the ancient Roman town of Gabii!"