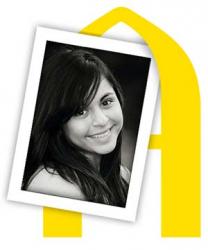 More Than I Imagined
Seniors reflect on accomplishments and look ahead
Manish Kumar
Graduation year: 2013
Majors: Biology, pre-medicine
Minors: Psychology, biochemistry
Activities: Augustana Community Health Organization/JETS, Jenny Lind Vocal Ensemble, Beta Beta Beta Biological Honor Society, Mortar Board, Phi Beta Kappa
Post-grad plans: Attend the University of Iowa Carver College of Medicine
Why did you choose to attend Augustana?
I chose Augustana because it was close to home. Being close to my family was important to me. Also, having gone to a really small high school, I loved the small size and 'homey' nature of Augie.
Are you where you thought you'd be four years ago? 
In some ways, yes, and in others, no. I've always known I wanted to be a doctor, but I didn't necessarily know how passionate I was about medicine. I also had no clue I would be involved in so much on campus!
Who helped you get to where you are now? 
My key support system was (and always will be) my family and my friends. They have always supported me, even when I was stressed and wasn't all that easy to love. 
A peak experience?
There are just so many! First of all, being involved in such an amazing research project the past three years under the direction of Dr. Muir has been amazing. I have learned so much about science and scientific research, but even more than that, it's given me confidence in my skills as a scientist. Similarly, going to Nicaragua made me realize my passion for medicine, and solidified my career choice.
How did you use your Augie Choice?
I went to Nicaragua on a medical mission trip—an experience that I sometimes can't even find the words to describe.
What did you learn about yourself in these past four years that surprised you? 
The most important thing I learned about myself was my capacity to love. Going to Nicaragua and falling in love with all of those beautiful faces really showed me that I am more than a filled résumé or notes on a page. Similarly, my struggles with balancing my social life and school taught me of my overwhelming love for all of my family and friends, and that they are what's most important at the end of the day.
What will you miss the most?
More than anything, I will miss all of the professors I have had. They have been huge support systems, and I'm going to miss going to their offices and talking to them. One of the great things about Augie is that you are able to get really close to your professors!
Advice for the Class of 2017?
Have faith in yourself, and never ever let go of that. Some things that happen in college will make you question yourself, and what you believe. Be strong in who you are — confidence is the key to success.
"Manisha came to Augustana as a very successful student who was comfortable doing things that were explicitly asked of her, but less comfortable evaluating situations and coming up with her own solutions. By immersing herself in laboratory and field research, shadowing physicians, and traveling abroad on a medical mission trip, Manisha has learned to embrace ambiguity and to trust her ability to find solutions to new problems. It has been an absolute joy watching Manisha develop those skills."