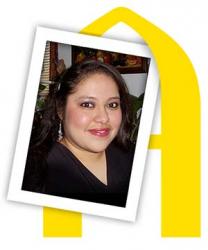 More Than I Imagined
Seniors reflect on accomplishments and look ahead
Lauren Mentado
Graduation year: 2013
Major: Business administration (international business and finance)
Minor: Spanish
Activities: Advertising Developers (Ads), Cantilena Augustana Choir, Business Club
Post-grad plans: Pursue a career in international business and/or marketing
Why did you choose to attend Augustana?
I chose to attend Augustana because from the minute I walked into the admissions office for an interview, I instantly felt welcome to the Augustana community. The personalized attention of the Augustana faculty and staff reassured me that the college was a good fit.
Are you where you thought you'd be four years ago? 
Not at all! I came to college completely undecided about what I wanted to study. Three years later, I am preparing to graduate with a degree in business administration and plan to pursue a career in international business and/or marketing.
Who helped you get to where you are now? 
I give primary credit to my parents and family who have been supportive of me throughout these four years. I am also grateful to the many Augustana College professors who have the enthusiasm and vocation to be instrumental in our success.
A peak experience?
One of my peak experiences was being a part of the ADs team and attending the National Student Advertising Competition in Detroit, Michigan. The hands-on experience and excitement about pitching an advertising campaign plan to a real client was beyond my expectations.
How did you use your Augie Choice?
I used Augie Choice to fund my expenses for an internship with Group O in Milan, Illinois.
What did you learn about yourself in these past four years that surprised you? 
I learned quite a lot about myself. I feel confident that the knowledge and skill sets I acquired during my time at Augustana has prepared me both on a personal and professional level. My biggest accomplishments were possible because of my determination to step out of my comfort zone, take risks and reap the rewarding experience.
What will you miss the most?
I will miss being a member of the Cantilena women's ensemble. I enjoyed taking a break from studying, two hours each week, to do what I love most, sing!
Advice for the Class of 2017?
My biggest advice to incoming students, particularly those who will be first-generation college graduates like myself, is to focus not only on building the knowledge of the field you plan to major in but also be sure to develop skills that will help you in your development as a professional and as a person.
"How would I describe Lauren? She is simply an amazing person, and I have had the privilege of knowing this remarkable young woman as my advisee and student. She is kind, dedicated and has a terrific personality. You could always count on Lauren. As her advisor, I am very proud of all Lauren's achievements and have no doubts that she has a bright future ahead of her."