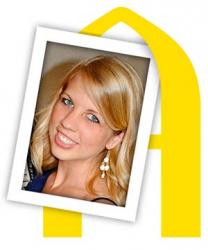 More Than I Imagined
Seniors reflect on accomplishments and look ahead
Lauren Gebhardt
Graduation year: 2013
Majors: Communication studies, English
Minor: Art
Activities: Vikettes, Alpha Phi Omega service fraternity, Mortar Board, Augustana Observer, Phi Beta Kappa
Post-grad plans: Pursue a career in public relations and event planning
Why did you choose to attend Augustana?
The people and sense of community on campus convinced me that this was the right place. Every person I talked to at Augie was so friendly, welcoming and helpful that I knew I would be happy and successful here.  
Are you where you thought you'd be four years ago? 
Not even close. I changed majors and career paths rather drastically after freshman year. I ran for executive board positions I never thought I would, worked internships I never expected to get, and am so much more upset to be leaving this place than I ever expected to be. 
Who helped you get to where you are now? 
Dr. Klien was a rock star advisor, excellent teacher and master at calming me down every time I thought my Senior Inquiry project was a failure. The entire course of my education would have been different (and slightly jumbled up) without him. I also wouldn't be who I am today without the support of my family, friends and Vikettes teammates.  
A peak experience? 
Studying abroad in Paris last summer was the peak experience of my college life and of the last 22 years as a whole. I had the opportunity to immerse myself in another culture, try foods I never thought I would touch, and see things I have been dreaming of since I was a kid. Beyond that, spending my time there with an amazing group of Augie students and two of the best professors I've ever had (shout-out to Dr. Hall and Dr. Gillette!) made the experience fun, educational and unforgettable.  
How did you use your Augie Choice?
I used it to help fund my time abroad in Paris. 
What did you learn about yourself in these past four years that surprised you? 
I am my own harshest critic and my own biggest fear, but if I get out of my own way, I can be successful.    
What will you miss the most?
Having my friends no more than five minutes away, dancing at football and basketball games, campus in the springtime, the incredible professors I've had, and the Brew.   
Advice for the Class of 2017? 
Enjoy every single moment, spend time outside when it is warm enough to do so, plan your course schedules far in advance, never be afraid to try new things, and eat a lot of Whitey's ice cream.
"Lauren exemplifies how the liberal arts prepare students for careers in the new information economy. Her communication studies and English majors gave her a thorough background in rhetorical analysis, complemented by media studies and public relations. Her excellent Senior Inquiry research, examining the construction of Coca-Cola's brand identity on Facebook, not only contributes to what we know about social media but also makes a strong case for the applicability of traditional rhetoric in cutting-edge 21st-century PR."