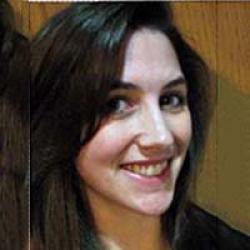 More Than I Imagined
Seniors reflect on accomplishments and look ahead
Kimberly Olson
Graduation year: 2013
Majors: Accounting, business administration (management and management information systems)
Post-grad plans: Auditor at Selden Fox, LTD, in Oak Brook, Ill., while pursuing my CPA and CFE designations
Activities: Clogustana, Alpha Phi Omega (national service fraternity)
Why did you choose to attend Augustana?
I was influenced by a couple of my high school teachers to go to Augustana because they spoke highly of the college. I also loved the student/faculty ratio, so I knew I wouldn't be just another student in my classes. The two-hour distance away from home was ideal, and the gorgeous campus was definitively a plus.
Are you where you thought you'd be four years ago? 
I am definitely not where I thought I'd be four years ago. Originally, I was going to be a secondary education and English major, but I started to realize that I was meant to do something else. I switched to accounting and business, and I loved it from the very beginning. The faculty were amazing, and the opportunities were abundant. I have also realized what I am truly interested in and passionate about… and that is auditing and fraud investigation.
Who helped you get to where you are now? 
The accounting faculty have helped me tremendously, especially my advisor, Dr. John Delaney. He always influenced me to do my best, and was always there to help me when I needed it. He not only became by advisor but also my life coach, and I am very thankful for that.
A peak experience?
It's very difficult to pick just one peak experience, but my internship with State Farm in Bloomington, Ill., this past winter term is one of them. The experience opened my eyes to what my majors have to offer and it developed me professionally. I also met some amazing people at State Farm, and will cherish those contacts for many years to come.
How did you use your Augie Choice?
I used my Augie Choice to go to Rome, Italy, for a couple weeks with 15 or so of my classmates and Dr. Dan Lee. It was an amazing cultural experience, and I would not take back the experience for anything.
What did you learn about yourself in these past four years that surprised you? 
I learned that I am not as shy as I used to be. I am not afraid to ask questions or seek help when I need it. I have also learned that everything works out in the end, and that if I work hard at everything and anything I do, it will pay off. Augustana has helped me grow as an individual and helped me become the person I am today.
What will you miss the most?
I will miss the amazing people I have gotten to know these past four years — friends and faculty. 
Advice for the Class of 2017?
Don't be afraid of what lies ahead, and don't be afraid to learn from your mistakes. You should always ask yourself if you have done your best. If yes, then that is all you can ask of yourself. Also, don't try to fit in; just be yourself and the rest will follow.
"Kim stands out as one of the more mature and dedicated students I have worked with at Augustana. She explored internship opportunities in both public and private accounting, and led our AICPA case competition team to new heights—reaching the semifinals of the national competition. Kim leveraged those experiences to garner a full-time job opportunity with a public accounting firm. It has been a pleasure working with Kim — we've shared many laughs during class and advising sessions over chocolate chip cookies. I look forward to staying in touch with Kim and hearing of her future success in the years to come."