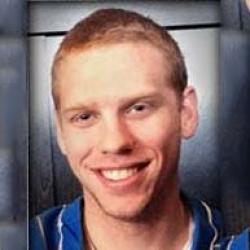 More Than I Imagined
Seniors reflect on accomplishments and look ahead
Kevin Waibel
Graduation year: 2013
Major: Accounting and business administration-marketing
Kevin's activities: Varsity basketball, Fellowship of Christian Athletes, Peer Mentor Program, AICPA Case Competition Team
Post-grad plans: I plan to come back for Augustana's CPA Certificate Program, and hopefully my current internship at Deloitte leads to a full-time offer.
Why did you choose to attend Augustana?
My first time on Augustana's campus, I stayed overnight on a visit for basketball. I got a tour and met people within the business and accounting departments. The people I met were welcoming and friendly. It was the most inviting school I visited, and the allure of the basketball program helped as well.
Are you where you thought you'd be four years ago? 
When I came to Augustana, I knew that I would do business and accounting, but there is no way I envisioned being where I am. The accounting department and basketball program have given me so many opportunities, including my current internship at Deloitte. I am thankful for the faculty at Augustana for being flexible and helping me succeed.
Who helped you get to where you are now? 
The accounting department and basketball staff have really kept me on track even after I wasn't able to continue basketball this year. Everyone at Augustana has an open-door policy and will go out of their way to assist you. I also need to mention Matt Pelton and Bryant Voiles, who were both great friends and mentors, as well as everyone I have taken classes with. Our campus is so tight-knit, and there are so many people who have helped along the way.
A peak experience?
My peak experience here at Augustana would have to be the trip I was able to take with the basketball team to China. Dr. Norm Moline accompanied us, and we had a meaningful and educational trip — learning about a new culture and playing basketball with my best friends.
How did you use your Augie Choice?
I used my Augie Choice for the trip to China.
What did you learn about yourself in these past four years that surprised you? 
I learned that I have many different interests that go beyond sports and friends. I was a peer mentor twice, did ADs for a year, as well participate in the AICPA accounting competition. Getting out of my shell, I was able to meet different people and develop new interests and relationships. I never saw myself as someone who would do stuff outside of sports and school, but now I can't see myself not doing those things.
What will you miss the most?
I will miss the people the most. From the professors to all of my classmates, Augustana is an environment where you can always find someone to help or just talk to. I will miss all of my friends who I can count on for just about anything. It will be different to not be able to just walk over and see people. I am excited for this class though, and I cannot wait to see where everyone is in five years.
Advice for the Class of 2017?
Don't be afraid to try something new and hang out with people who have different views and interests. Augustana offers so many different opportunities, and you will not regret extending yourself.
"Kevin is exceptional. Other students want to work with him because of his knowledge, attitude and generosity. Faculty want to teach him because he is intelligent, involved and a great spark for the classroom. His involvement does not stop at the classroom door. He was one of the four students who took an AICPA case study into the semi-finals and brought national recognition to the college. One day I look forward to attending his promotion party when he becomes a partner in the Big 4 or a CFO of a Fortune 500 company."