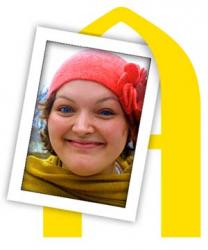 More Than I Imagined
Seniors reflect on accomplishments and look ahead
Kate McCormick
Graduation year: 2013
Majors: Art history, Asian studies
Activities: Interfaith Understanding, Campus Ministries Leadership Team, Jenny Lind Vocal Ensemble, Peer Mentor Program
Post-grad plans: Pursue the Master of Divinity at Yale Divinity School
Why did you choose to attend Augustana?
I chose Augustana because this place makes me feel good! Every time I visited this campus, I had a feeling that Augustana would give me a good life, and my intuition has never served me better. This same good feeling helped me to know that Yale Divinity School was my next step.
Are you where you thought you'd be four years ago? 
I have recently realized that I am well on the way to becoming the person I wished to be four years ago. My time at Augustana has helped me to become more thoughtful, compassionate and daring. While Divinity School was never part of my life plan, I see now that my decision to undertake this course of study is a product of who Augustana has helped me to become.
Who helped you get to where you are now? 
The women of the art history department and the entire campus ministries team have been particularly bright beacons of guidance. These offices helped me identify my gifts and finally my calling through helpful advising and patient listening. I have also benefited tremendously from the bits of wisdom gathered from all corners of campus, which have helped me to live a better life. Dr. Moline of the geography department once told me that he 'always finds a way to be interested in everything,' a deeply fulfilling practice I have adopted.
A peak experience?
A peak experience for me was being able to celebrate my time here during the Tuesday Reflection I gave in Ascension Chapel. Many of the Augustana faces I love attended the service, and I got to show them how much they have meant to me through a brief message I composed about the 'party' life is.
How did you use your Augie Choice?
I used my Augie Choice to taste a little bit of life in Ghana, West Africa.  For six weeks, I lived with a remarkable host family, rode tro tros and challenged my own beliefs about racial and national identity. This adventure gave me a profound appreciation for Africa, and I can't wait to embark on many more journeys to this fascinating continent.
What did you learn about yourself in these past four years that surprised you? 
I have realized how deeply I believe in the unity of humankind. Call me a naïve optimist, but during the past four years, the friends I have made, the sights I have seen, and the facts I have learned have led me to believe the world is a beautiful place.
What will you miss the most?
I will miss getting to interact with so many different types of passionate people on a daily basis. Joan of Arc once said, 'I am not afraid, I was born to do this,' and the saint's mentality certainly resonates with the Augustana population. Every day I get to attend class knowing that my professors are doing what they love, and every day I get to see how enthusiastic my peers are about their own passions. Life is as exciting as the people you spend it with, and my life at Augustana has been extraordinarily exhilarating.
"Kate is an eternal optimist! She brings passion and enthusiasm to everything she undertakes. Her art historical interests span many global, cultural and methodological perspectives. She will undoubtedly apply her scholarship and service, already framed by a beautiful worldview, toward further defining her vocation at Yale Divinity School. "