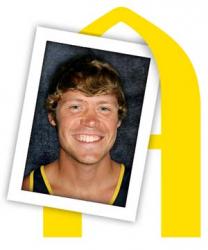 More Than I Imagined
Seniors reflect on accomplishments and look ahead
Jonathan Smith
Graduation year: 2013
Major: Biology
Activities: Varsity cross country, varsity track and field
Post-grad plans: I plan on spending a year away from academics to work and decide what I want to do long term. At this point, I am considering getting a master's in education or kinesiology in the hopes of one day coaching cross country and track at the high school or collegiate level. 
Why did you choose to attend Augustana?
I chose to attend Augustana because of its strong biology program and its great track and cross country programs under Coach Olsen. 
Are you where you thought you'd be four years ago? 
I am not sure I ever knew where I wanted to be at this point in my life, but I can say that the last four years have been the greatest four years of my life, and I am excited to see where life takes me after graduating from Augustana. 
Who helped you get to where you are now? 
My parents and Coach Ols' were the biggest factors in helping me get to where I am now. I couldn't have had such a great career in running and academics without their help and encouragement. 
A peak experience?
My peak experience at Augustana was getting All-American honors at the NCAA cross country meet last fall. It was the culmination of fours years of hard work and great experiences with my coaches and teammates. It felt amazing to achieve the highest goal I set for myself during my college running career. 
What did you learn about yourself in these past four years that surprised you? 
I am surprised by how much my passion in running has spilled over to academics and driven me to be successful in both. I would attribute that exchange of hard work from sports to academics to Coach Ols' and the experiences I have had on the track and cross country teams. 
What will you miss the most?
After I graduate, I will miss being able to experience Augie cross country and track on a daily basis the most. It was great to feel like I was a part of something bigger than myself. 
"Jonathan Smith is an exceptional student majoring in biology, and he is a terrific athlete with great leadership qualities. He was a captain of the cross country team, and in the national meet he achieved All-American status — only the top 35 runners IN THE COUNTRY (out of thousands) achieve this. As a student, he achieved the Academic All-American award from the national coaches' association, and he's a great student not just in biology. He was in my 309 English class and brought meaningful insight and a clear, articulate voice to every class, every paper."