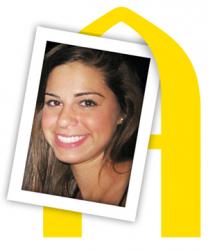 More Than I Imagined
Seniors reflect on accomplishments and look ahead
Jennifer Prazak
Graduation year: 2013
Major: Biology
Activities: Varsity cross country, varsity track & field, Sigma Pi Delta sorority, Alpha Phi Omega service fraternity
Post-grad plans: Accelerated bachelor of science in nursing program at Saint Louis University.
Why did you choose to attend Augustana?
My sister attended Augie, and every time I visited the campus, I could easily picture myself going here. The faculty seemed to truly care about the well-being of its students; the biology program had a strong reputation; and Augie offered me the opportunity to continue competing in track and cross country.
Are you where you thought you'd be four years ago? 
As a freshman, I was set on becoming an optometrist, but after two medical mission trips across seas, a handful of science classes and countless other experiences — including meetings with vocational counselor Laura Mahn — I am now going into a career in nursing and couldn't be happier.
Who helped you get to where you are now? 
Dr. Dara Wegman-Geedey and Laura Mahn have helped me redirect my career path time and time again. Phenomenal professors such as Dr. Gehler have helped me further develop my educational interests. My coach Fred Whiteside, along with the other coaches as well as my teammates, have helped me develop my character, and my parents and friends have believed in me and given me the support and confidence to take risks.
A peak experience?
This past indoor track season I had the honor of running on the 4x800 relay team that broke the school record. My teammates are some of the greatest people I will ever know. We have trained together and pushed each other 30+ hours a week, year-round for the past four years, so to be able to share such a great accomplishment with my best friends makes the experience that much sweeter.
How did you use your Augie Choice?
I went on a medical mission trip to Nicaragua with 50 Augustana students and faculty where we were able to help more than 400 medical patients, 300 dental patients, 500 animals, and provide 100 home visits to 12 different Nicaraguan towns.
What did you learn about yourself in these past four years that surprised you? 
I've discovered who I am, what I stand for, what I love, and how to be the best version of myself that I can. I have never felt so comfortable and proud of the person I have become, thanks to the Augustana environment and its ability to mold its students into some of the most well-rounded, motivated and successful individuals.
What will you miss the most?
The people of course — my hilarious friends and teammates, my cheerful bosses, my sorority sisters, my neighbors, the kind faculty, and the daily greetings from the lunch lady Maria and the science building custodian Sue. But also the little things — ice baths full of all the teams on campus, Aces rides, Old Main lit up at night, Westerlin fruit, impromptu Clogustana performances, vocal valentines, Fred Whiteside's jokes and cross country camp.
Advice for the Class of 2017?
Meet as many different people as possible because everyone has a story and you never know a person's until you ask. Find something you're passionate about. Be adventurous. Take risks. A wise man once told me, "It's easier to ask for forgiveness than to ask for permission."
"Jen exudes enthusiasm and determination for learning. She came to Augustana with a specific career goal in mind, but as she engaged in diverse opportunities on and off campus, she found her passions evolve for something even more exciting. These experiences helped shape Jen to be the natural leader and inquisitive scholar that she is and will serve as a foundation for her success after Augustana."