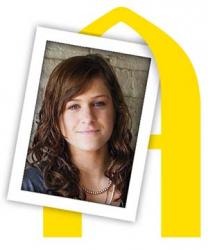 More Than I Imagined
Seniors reflect on accomplishments and look ahead
Gianna Pecora
Graduation year: 2013
Majors: Biology, psychology, pre-physical therapy
Activities: Varsity basketball, Sigma Pi Delta sorority and Camp Kesem
Post-grad plans: Work as an athletic trainer and apply to graduate schools for physical therapy
Why did you choose to attend Augustana?
I knew I wanted to attend Augustana from the moment I stepped on this beautiful campus. There seemed to be a strong community feeling, which was something that was very important to me when looking for a school. I also liked the intimate classroom setting; the biggest class I ever attended at Augie was 40 students.
Are you where you thought you'd be four years ago? 
When coming to Augustana, I thought I would be strictly a biology major. However, over the first year I learned that I really enjoyed psychology and decided to add my second major. That was the best decision I have ever made because it is a discipline that I thoroughly enjoy! I also never thought I would get my license to be a certified personal trainer and follow my dreams to help people.
Who helped you get to where you are now?
All my teachers and coaches that I have had in the past four years have taught me to never settle and always work to the best of my abilities. Without this work ethic, I would not be where I am today.
A peak experience?
My most memorable experience was helping start up Camp Kesem, raise $30,000 to help 30 kids attend camp for free, and attend Camp Kesem's first camp! Camp Kesem has been the best experience I have ever been a part of. Although these kids are currently watching their parent go through cancer treatments or have lost a parent to cancer, they became an inspiration to not only myself, but also the rest of the staff. Some of these children have a better outlook on life than some people in their mid-40s, and it was wonderful to help them be a kid again for a week at camp.
How did you use your Augie Choice?
I used my Augie Choice to pay for expenses during a summer internship at a training facility for high-end athletes called Get Fast. I worked as a trainer where I had the pleasure of training athletes ranging from 6-21 years old. This experience helped me land a job as a personal trainer after I graduate. It has also helped me gain an edge on my competition for when I apply to graduate schools to be a physical therapist.
What did you learn about yourself in these past four years that surprised you? 
To always follow my dreams and get involved in everything that my heart desires because if I really want it, I can make it happen. Although I had a 'full plate' while at Augustana, I was never afraid to commit to something that I was really interested in even if I didn't necessarily have the extra time.
What will you miss the most?
I will miss seeing my teammates, sisters and friends every day on campus and getting the chance to catch up with them on a daily basis.
Advice for the Class of 2017?
Get involved and stay involved! Don't be afraid to make connections with faculty and staff outside of class time because those connections may lead to a job, internship or a source for letters of recommendation.
"Gianna is a self-made player due to her relentless work ethic and toughness. She was the first player to begin what has been a slow change in this program towards a deeper commitment to the team and to each other. She led by setting an example, always working on her game and coming back in better shape each and every year of her career. She is a leader on and off the court on this campus, and she will be missed greatly by many, including me."