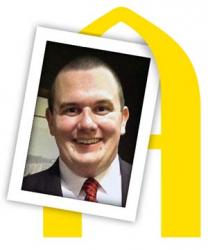 More Than I Imagined
Seniors reflect on accomplishments and look ahead
Eric Pease
Graduation year: 2013
Majors: Neuroscience, pre-medicine
Activities: Augustana Choir, Student United Way, Campus Ministries Leadership Team, Honor Council, Office of Student Activities, Peer Mentor
Post-grad plans: Pursue the doctor of osteopathic medicine at Kansas City University of Medicine and Biosciences
Why did you choose to attend Augustana?
Augustana was always on my radar. There were several teachers at my high school who were alumni and encouraged me to look into Augie. As I began to explore Augustana and other colleges, I found the academics and reputation of Augustana in preparing students for medical school was well ahead of so many others. On one of my visits to campus as a prospective, I soon realized that this was the place for me — a place where I could grow into the person I wanted to become. 
Are you where you thought you'd be four years ago? 
I am where I thought I would be, but the opportunities and experiences I have had along the way were far more than I ever imagined. Augustana has allowed me to challenge myself and grow — not only as a student, but as a person, too. 
Who helped you get to where you are now? 
This is such a hard question for me because I have been extremely fortunate in having so many mentors and role models over the past four years: professors, employers, staff members. Augustana is filled with people who love what they do, and those individuals' passion and devotion for their work has inspired me to pursue a future filled with finding joy in the things I undertake. 
A peak experience?
Traveling to Houston, Texas, for an internship at the University of Texas MD Anderson Cancer Center has been the highlight of my Augustana career. Working at MD Anderson challenged me in ways I never imagined, and from those challenges, I gained a deeper understanding of myself and a greater desire to pursue a career in medicine.
How did you use your Augie Choice?
I traveled to Germany and Austria on a 15-day tour with the Augustana Choir, and my Augie Choice money helped to fund that trip for me. By learning about the German culture and participating in a project with the German people on commemorating and honoring those lost in the tragedies of World War II, I developed great respect for the power of collaboration and the universal language of music.
What did you learn about yourself in these past four years that surprised you? 
I have learned how important each and every person is. Seeing all of the roles in the daily operations of the college — students, faculty, secretaries, facilities services, food service workers, public safety (and so many others!) — has shown me that we all have special gifts and contributions to make. Through working together and celebrating the talents of others, we gain a stronger appreciation for those people who we get the chance to work with on a day-to-day basis.
What will you miss the most?
John Keats once said, 'A thing of beauty is a joy forever.' How true it is that Augustana, for me, has been a thing of beauty that will be a joy forever. I will miss walking through campus and seeing so many friendly faces and interacting with people who love what they do and love Augustana. I will hold the relationships I have made near and dear to me as I leave Augustana, and I will keep in touch with so many who have helped me become the person I am today. 
Advice for the Class of 2017?
Enjoy every minute, meet every person you can, and never be afraid to try something new. Great opportunities are available to those who come to Augustana and seizing those opportunities will allow you to experience more than you ever imagined in just four short years.
"Eric is a well-rounded young man with a passion for learning. He challenges himself and others in a positive and energetic manner. His inquisitive nature and sense of humor will be missed!"