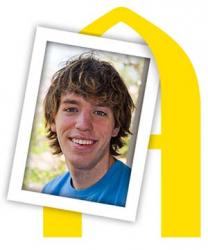 More Than I Imagined
Seniors reflect on accomplishments and look ahead
Ben Fischer
Graduation year: 2013
Majors: Computer science, philosophy
Activities: Web Guild, Debate, Philosophy Club
Post-grad plans: I am applying to medical schools this spring!
Why did you choose to attend Augustana?
I found Augustana while researching which schools had won the most debate national championships. After I visited the campus and met some of the students here, Augie felt like a great fit for me. 
Are you where you thought you'd be four years ago? 
Absolutely not. Augustana creates opportunities for its students to step outside their comfort zone and try exciting new things. If you choose to take those chances, you're not going to end up where you originally planned.  
Who helped you get to where you are now? 
First, my debate coach, Max Archer, because he sagaciously pushed me to make friendships a core priority in my debate experience, and friendships are the most valuable thing I'm taking with me after graduation. Second, Doug Tschopp because he's created insanely cool opportunities for me to grow professionally, and, big opportunities aside, he always brings a laugh or amusing story to the office which constantly helps me enjoy work/not stress. 
How did you use your Augie Choice?
I did an internship with John Deere, which was very cool for its own reasons, but I wouldn't hold it up as a paradigm of how to use Augie Choice. If you can find the time to go abroad, I'd tell you to do that.
What did you learn about yourself in these past four years that surprised you? 
I'm a bit of a Les Misérables devotee. I'm constantly having identity crises, constantly wondering who I am and what I value. But my bit of luck is that in college I learned to stop being terrified of those fluctuations. I met other existential people and let out a sigh of relief like, 'Oh phew, if I'm weird, it's not because I can't figure out what I'm doing with my life.'
What will you miss the most?
Family dinners. We have a tradition where one person in the house has to prepare a nice meal for everyone else in the house. Occasionally, it's civilized, but usually it's more like an authentic Greek family dinner. It starts with a prayer and immediately devolves into chaos. There's a lot of bickering and jostling and interruptions, but at a completely unspoken level it's grounded in love. It takes a while to develop relationships like that, so it'll be hard to start over in a new city after graduation.
Advice for the Class of 2017? 
There's only one way to mess up your college experience — a bad attitude. Make mistakes, let problems roll off your back and go out of your way to get to know people. Augustana tends to be very inclusive, but that isn't magic, it's more like a ripple effect. If one person sets a positive tone, it spreads outwards — so be that one person.
"A man of many diverse interests, I met Ben his freshman year as he joined both ADs and the Web Guild. He worked on marketing projects early on, but his primary responsibility became the creation of custom software that we needed to run an international conference. Working much on his own, he drove this critical project for the EDGE Center. The foundation he laid with this project created additional opportunities for students from many disciplines. As a primary leader for Web Guild, Ben will be missed as he leaves Augie."