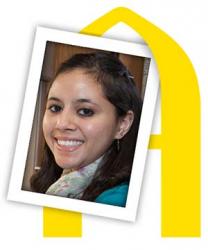 More Than I Imagined
Seniors reflect on accomplishments and look ahead
Astrid Tello-Rodriguez
Graduation year: 2013
Major: Psychology
Minors: Philosophy, Spanish
Activities: Psi Chi (national honor society in psychology), Psychology Club, Phi Beta Kappa
Post-grad plans: Master of social work program at the University of Illinois at Urbana-Champaign
Why did you choose to attend Augustana?
I felt very comfortable every time I came to visit. Everyone was very welcoming, and I could see myself interacting with the faculty and students I met.
Are you where you thought you'd be four years ago? 
I am not where I thought I'd be four years ago. When I first came to Augustana, I wanted to be a pre-med major and go on to medical school to study developmental neuroscience. During my time here, I've changed my major and my ultimate career goal.
Who helped you get to where you are now? 
I believe that I am where I am now due to the encouragement and guidance I received from my mom, certain professors and my work supervisors. Not only did they all encourage me to try new experiences, but they also helped me realize new ways in which I can use my talents.
A peak experience?
My peak experience was the trip I took last February to Guatemala with my Childhood in the Developing World class. It was such an amazing experience because working with different NGOs in such a new environment helped reaffirm my career goals and helped me realize that I want to some day work with an international social service organization.
How did you use your Augie Choice?
I used Augie Choice to go to Guatemala with my class. I'm glad that I was able to use this resource because it helped me have one of the most amazing experiences I've had in my life so far.
What did you learn about yourself in these past four years that surprised you? 
One surprising thing that I learned about myself these past four years is that I am a very strong and committed person. I also learned that I am very capable of making it through trying situations as long as I recognize when I need to reach out for help.
What will you miss the most?
I'll miss interacting daily with the wonderful people I've met here. I've built strong relationships with several people who I really look up to, and I'll miss being able to see them and talk to them so often.
"Astrid is an incredibly talented, intelligent and committed woman who is a joy to work with both in and out of the classroom. She is driven to make a difference in our world and has chosen to do so through a career in social work."