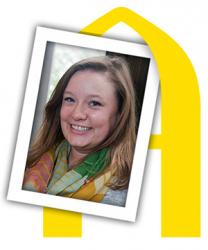 More Than I Imagined
Seniors reflect on accomplishments and look ahead
Annie Nordin
Graduation year: 2013
Majors: Secondary education, English
Minor: Spanish
Activities: Phi Rho sorority
Post-grad plans: Searching for a position in a middle school or high school English department
Why did you choose to attend Augustana?
Augustana had the right answers to all of my college questions. More than anything though, it was the good vibes that Augie just exudes. From my first time on campus, I knew this was the place for me. 
Are you where you thought you'd be four years ago? 
Yes and no. I thought I'd be graduating and celebrating a successful four years, for certain. However, four years ago, I did not realize how much Augie would mean to me. I have made some of the greatest friends and memories I could ever ask for, and I never expected how bittersweet it would be to leave them all.
Who helped you get to where you are now? 
I would not be where I am today without the education department. They have prepared me fully for my future career, providing me and my classmates with unending advice, encouragement and ideas. They modeled for us all what it means to be great teachers, and their support for one another taught us the importance of collaboration. I will forever be grateful for what they have given me, and I'm sure I will turn to them for years to come. 
A peak experience? 
Augustana has been quite an adventure, but one of my peak moments was my student teaching experience. I was challenged on a daily basis, but in spite of that, I was never more certain of what I wanted to do with my life. 
How did you use your Augie Choice?
I used my Augie Choice money to study abroad in Salamanca, Spain. It was an incredible adventure, and I am very thankful that Augie Choice helped make it happen!
What did you learn about yourself in these past four years that surprised you? 
It's not so much what I learned, but what I gained. My Augie experience has given me a confidence that I didn't always have. Maybe it comes with growing up, but I've done so many things that I wouldn't have been comfortable doing four years ago.
What will you miss the most?
It's hard to imagine my life without seeing all the people I love on a daily basis! I'll miss my friends the most. We have all called each other 'home' for the last four years, so leaving them all will be incredibly difficult.
Advice for the Class of 2017?
A successful college experience is a balanced one. Work hard in school, get involved outside the classroom, and never miss out on a chance to spend time with your friends. These four years will fly by, and finding the right balance will make them as rich as possible. If you're lucky, you'll be crying like a baby at graduation like I am sure to be, but completely prepared for the next chapter of your life.
"I supervised Annie's student teaching experience, so I got to see her in action, using her intelligence, creativity and liberal arts education to create engaging learning opportunities for her high school students. Annie has myriad talents and could have chosen to pursue many other passions, but she decided to become an English teacher and positively impact the world through teaching. She will represent Augustana's education department, and the teaching profession, well."