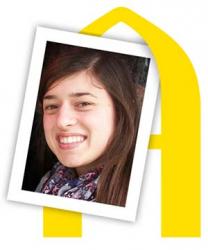 More Than I Imagined
Seniors reflect on accomplishments and look ahead
Angela Conte
Graduation year: 2013
Major: Psychology
Minors: Anthropology and sociology
Activities: Community Advisor, Camp Kesem Augustana, Alpha Phi Omega (service), RHA Publicity Chair, National Residence Hall Honorary vice president, Psi Chi psychology honor society
Post-grad plans: Master's program in cognitive and behavioral sciences at Illinois State University.
Why did you choose to attend Augustana?
The campus was beautiful, and I liked the general atmosphere of the college. I felt welcomed by the faculty and enjoyed the fact that there were small class sizes.  
Are you where you thought you'd be four years ago? 
I could have never imagined where I am today. I have been provided with so many opportunities that I didn't even know were available. I am so happy with where I am today, and I wouldn't trade my Augustana experience for anything.    
Who helped you get to where you are now?
I wouldn't be where I am today without my parents. They have supported me throughout my four years and encouraged me to strive for the best. Many faculty members have also helped me to achieve my goals.
A peak experience?
A peak experience for me would have to be attending Augustana's first Camp Kesem camp. The group was started from the ground up, and we were able to provide a very successful free weeklong camp to children whose parents suffer from cancer. This was by far the most amazing week of my life, and it validated all the hard work we had done.
How did you use your Augie Choice?
I attended the Eastern Psychological Association conference in New York to present my research during a poster session. I would not have been able to travel and gain this experience without the help of Augie Choice. 
What did you learn about yourself in these past four years that surprised you? 
I think I was most surprised by how driven I am. I realize I will do anything to achieve my goals and work hard to make sure it happens.   
What will you miss the most?
I will miss the most all the people I have met. I have met my best friends here at Augustana, and I can't imagine not seeing them every day. So many memories at Augustana involve the people I have surrounded myself with.
"Two of Angela's research projects received an Undergraduate Research Award from Psi Chi, the International Honor Society in Psychology (several hundred dollars each). There is about a nine in 10,000 chance that a student with two posters would have both posters selected by chance. So I am going to attribute her success to talent and hard work, not just good luck. I like her story because she has always been interested in psych, but she describes her discovery of research as an exciting, eye-opening experience."