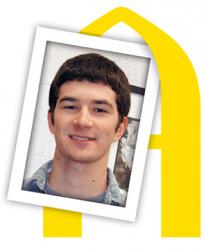 More Than I Imagined
Seniors reflect on accomplishments and look ahead
Alexander Vlastnik
Graduation year: 2013
Major: History
Minor: Classical studies
Activities: Phi Beta Kappa, Alpha Psi Omega (national theatre honor society)
Post-grad plans: Obtain a master's in history at Western Illinois University 
Why did you choose to attend Augustana?
I was drawn to Augustana by the accessibility and friendly nature of the school. Selling points such as no teaching assistants and the ability to have a faculty advisor who worked in my area of study helped me make my decision.
Are you where you thought you'd be four years ago? 
Four years ago, I really had no idea where I would be; at this point, I'm more than happy with where I've ended up. Through several changes of majors and plans for after graduation, I feel as if I've found something I enjoy studying and hope to continue that process.
Who helped you get to where you are now? 
My advisor in the classics department, Dr. Kramer, helped me immensely by sitting down with me and figuring out a program of study that would fit my needs, as well as helping me look for institutions at which to continue my education after graduation. Dr. Calder also helped me as an advisor in working through my Senior Inquiry and helping me refine my approach to the research and writing process.
A peak experience?
My peak experience came through the research process of my senior thesis. Having access to the Rock Island Arsenal Archive, as well as Augustana's Special Collections, allowed me access to documents and resources that I used as the basis of my project, which made the research process incredibly fruitful as well as enjoyable.
What did you learn about yourself in these past four years that surprised you? 
One thing I learned was the value of hard work and that it is worth the payoff in the end. Some of the subjects I found most difficult or taxing at the beginning of my educational career have become some of the areas of study that interest me most. Though persistence, as well as some help from others, I was able to gain proficiency in subjects I had previously struggled with, which is rewarding.
What will you miss the most?
Friends, as well as the faculty I've had the opportunity to work with, will be what I'll miss most.
"When I challenged the seniors in HIST 481/482 to 'tell a good story,' I didn't think they had a chance in heck of pulling it off. Our program stresses analysis and argumentation, not the art of historical narrative. But Alex rose to the task like one born to do it. His moving story of a Confederate prisoner held at the Rock Island Military Prison deserves to be published, and will be I'm sure — a fitting reward for Alex's hard work and talents."