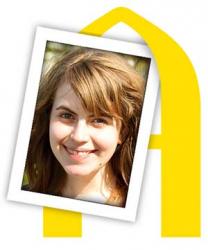 More Than I Imagined
Seniors reflect on accomplishments and look ahead
Veronica Smith
Graduation year: 2012
Majors: Studio art, art history, environmental studies
Activities: The Redwood Movement, Sigma Alpha Iota, Alpha Psi Omega, Omicron Delta Kappa, Farm2Fork, Global Affect, SAFARI, Augustana Observer, Symphonic Band
Post-grad plans: Attend the University of Iowa for my master's in art history in the fall, and I intend on continuing straight to the Ph.D. I'd also like to release an album before December full of catchy dance music about possible ways the world could end.
Why did you choose Augustana?
I chose Augustana because of the trees. I grew up in the woods, and the Quad-City area is a booming metropolis compared to my hometown. I needed some kind of buffer from the onslaught of urban living. I also liked the fact that I could continue participating in theater and music without majoring in either discipline.
Are you where you thought you'd be four years ago?
Considering I thought I would be living in Germany and traveling through Europe by motorcycle, not really! However, I can't imagine a better place to be! I am poised to be a professional lifelong learner and am surrounded by amazingly creative, compassionate and accomplished friends, and am more than excited to be staying in the Midwest for the next few years!
Who helped you get to where you are now?
My professors challenged me to academically justify the innate connectivity I experience in day-to-day life, which has led me to finding even more connections and possibilities and curiosities, and has left my brain (and heart) itching for more exploration. Additionally, my professors challenged me to be a better person by constantly encouraging and guiding me in the more personal aspects of my life. My parents have also been instrumental, especially in keeping me motivated and determined. And my friends — sometimes, I feel overwhelmed with the foreboding sense that I will never again have the privilege of seeing, interacting with and creating with such amazing people on a daily basis. Then again, my friends have taught me that there is beauty in genuinely connecting with those around you, and that beauty transcends time and place and even individuals.
A peak experience?
Either traveling to West Africa in the spring of 2010 or traveling with the Symphonic Band to Italy! I've also loved getting to know the Quad Cities on bike. The Redwood Movement was an incredible experience as well.
What will you miss most about Augustana?
I will miss watching the sky darken through the windows of the Ensemble Room, the particular smell (musty, papery, thick with history) of the art storage room in the museum, and having my own studio to work in. But above all else, I will miss the people I met here, and the relationships I formed with them. I will miss knowing almost everyone I pass on the sidewalk.
"Veronica Smith has shone bright in more areas of talent, intellect and dedication than I can keep track of. I enjoyed her writing, admired her performance on stage, watched her draw and build an impressive portfolio, shared her wonderful news of acceptance into graduate school in art history, and caught bits of her musicianship and leadership in meaningful causes on and off this campus. She is a gifted leader, definitely one of the best graduates out of Augustana. I look forward to hearing about her future accomplishments."