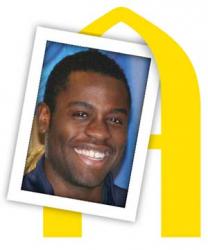 More Than I Imagined
Seniors reflect on accomplishments and look ahead
Troy Rorer
Graduation year: 2012
Major: Business administration-marketing and finance
Activities: Varsity basketball
Post-grad plans: Move to Chicago and find a job
Why did you choose to attend Augustana?
I chose Augustana because my brother came here before me, and he made Augie seem like a great place to go. Also, Augustana is a well-known, prestigious school, and it carries weight when you're looking for a job.
Are you now where you thought you'd be four years ago?  
Absolutely. Augustana has really prepared me for my life to come and because of that I will join the job market and hopefully be successful.
Who helped you get to where you are today?
Coach G. (Grey Giovanine) really put me on track not only on the basketball court but he has taught me that nothing is given to us, so we have to work as hard as we can to reach the goals we want to achieve.
What did you learn about yourself in these past four years that surprised you? 
I learned that I am able to balance everything I do in a way that is healthy and efficient.
A peak experience?
My peak experience would have to be getting to the Elite 8 game in the NCAA tournament. The intensity in Carver was unbelievable because of the students who would cram the gym an hour before the games. I will remember that forever.
What will you miss the most about Augustana?
I will miss my team the most. Those guys are all my family, and I will never be with a team like that ever again.
"Troy Rorer stood 6'1" and weighed 175 pounds and was an unsure, wide-eyed freshman moving into Westerlin Hall four years ago. Today, the CCIW All-conference senior stands 6'3" and weighs 195 pounds. Troy went through a great process of growth in every respect during his time at Augustana. During his junior and senior year, his leadership was evident when he was an integral part of a team that posted 46 victories and won both a regular season and conference tournament championship. As the conference's best defender, he showed a tenacity that will serve him well as he moves into the post-graduate experience. Troy will be an alumnus that all at Augustana will be proud of, and I was lucky to be his coach."