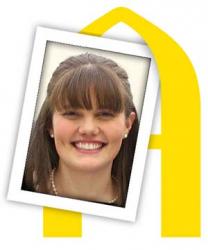 More Than I Imagined
Seniors reflect on accomplishments and look ahead
Samantha Tyner
Graduation year: 2012
Majors: Mathematics, French, economics
Activities: Augustana Symphonic Band, Sigma Alpha Iota, Alpha Phi Omega 
Post-grad plans: Attend Iowa State University for the statistics Ph.D. program
Why did you choose Augustana?
I chose Augustana because of the liberal arts curriculum, its small overall size and small class sizes. Also, the campus is beautiful, and there is a lot to do in the Quad Cities!
Are you where you thought you'd be four years ago?
Not at all, but in a really excellent way! I didn't know what I was going to do, or even what I was going to major in when I first got here, but now I know exactly what I'm doing next year, and what I want for my life after Augie. I am so excited for the future!
Who helped you get to where you are now? 
My advisor, Dr. Bengtson, helped me a lot by encouraging me to take the classes that I was interested in, but also by nudging me into the upper-level math classes early on. I was a little scared of them, but he was always very encouraging and knew that I would succeed. He also encouraged me to apply for an REU (Research Experiences for Undergraduates), which I am extremely grateful for, because my REU experience at Valparaiso University helped me decide to go to graduate school.  
A peak experience? 
Touring Italy with the Symphonic Band in my junior year was one of the greatest experiences of my life! The Symphonic Band is truly a family, and traveling and playing with them in one of the most beautiful countries in the world was amazing. It was beautiful to see a completely different kind of audience be moved by the music we played, even though they didn't know a thing about us, nor us about them.  
What did you learn about yourself in these past four years that surprised you? 
I learned that I can balance lots of schoolwork with lots of activities and time with friends and not be extremely stressed out. My experience at Augustana definitely helped with my time-management skills, which I will benefit from in the future, especially in graduate school.
What will you miss the most about Augustana?
I will miss the people and the sense of community the most. I got a great education here, but the friends I made made the experience truly wonderful!
"Samantha was a great student and so much fun to work with! She has a great attitude about mathematics and its connections to other disciplines. She gave several talks about her work, and they were always professionally done and well received. I'm proud to know her."