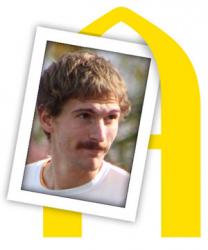 More Than I Imagined
Seniors reflect on accomplishments and look ahead
Mike Tisza
Graduation year: 2012
Majors: Biology, pre-medicine and English
Activities: Cross country, track and field
Post-grad plans: Coach college cross country and track and apply for medical schools
Are you where you thought you'd be four years ago?
Four years ago, I knew I wanted to come to Augustana, but I didn't know I would develop my potential in academics, a social life and athletics as much as I have.
What did you learn about yourself in these past four years that surprised you? 
I love the Quad Cities, and I will have a lot of trouble leaving.
A peak experience? 
One that immediately comes to mind is the 5000m race at last year's outdoor track and field conference championship when I pulled off an upset victory in front of the home crowd. It was a major reaffirmation of the way I approach running from both a training standpoint and a philosophical standpoint.
Who helped you get to where you are now?
My parents, for one, have been a huge help in encouraging me to pursue my education and providing me the tools and freedom to do so. My coach, Dr. Paul Olsen, has inspired me to know, among other things, that the "impossible" isn't. My friends have helped me remember that I'm neither as smart or charming as I sometimes think I am.
Your research interests?
— Last summer I was a research assistant at Midwest Orthopedics at Rush University Hospital collecting data from total knee and hip replacement patients in order to improve the outcomes of revision surgeries. 
— My English Senior Inquiry was an analysis of the Nigerian author Chinua Achebe and his views on colonial discourse and a comparison of those views to Marxist ideas of subaltern. 
— I'm currently doing research for my Biology Senior Inquiry, which will examine insect-borne parasites and their effects on agriculture and ecology of cattle grazing in Africa. 
"Mike is the captain of track AND cross country, and he is the conference champ in the
5,000-meter run (in the toughest conference in the country!). He's also a pre-med and English double major with a 3.7+ grade point. Need I say more? But I will: He's principled and has lived his entire college career with purpose and integrity."