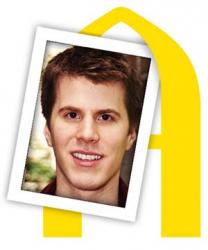 More Than I Imagined
Seniors reflect on accomplishments and look ahead
Kevin Pettit
Graduation year: 2012
Majors: Biochemistry, political science
Activities: Augustana Symphony Orchestra, Jazz Ensemble, Jazz Combo, Alpha Phi Omega service fraternity, Augustana Community Health Outreach Organization, Beta Beta Beta Biology Honor Society, Sigma Xi Research
Post-grad plans: Attend the University of Iowa Carver College of Medicine
Are you where you thought you'd be four years ago? 
I came to Augustana expecting to major in biology but found myself drawn to biochemistry instead. I also found a passion for political science that resulted in an additional major. Augustana enabled me to find my passions, and I am glad to be where I am today.
Who helped you get to where you are now? 
The support of family and friends has been crucial to my development both in and out of school. I have also been able to develop strong academic and research relationships with some of the faculty, enabling me to broaden my experiences and knowledge. Three who really stand out as both classroom and research mentors are Dr. Storl (philosophy), Dr. Crawford (biochemistry) and Dr. Weissburg (political science).
A peak experience? 
For me, this is a tie! I loved participating in a medical mission trip to Nicaragua, which was my first time out of the country. I was also incredibly fortunate to be able to participate in the internships at Texas Medical Center, experiencing research at Baylor College of Medicine, one of the nation's major medical research institutions. 
What did you learn about yourself in these past four years that surprised you? 
I had always assumed that laboratory research would be for me, but I found other fields that are very appealing. I have cultivated new, unexpected interests in medical ethics and health care policy.
Anything you'd like to add? 
Augustana provided me with opportunities whenever I reached for them. I was able to complete a case study of a local hospital's ethics system, volunteer in the community, research with our fantastic biochemistry professors, and participate in music ensembles. None of my goals were off limits at this school.
What will you miss the most? 
I will miss the multi-disciplinary nature of everyone at this institution. So many people work across disciplines and are multi-talented. It is rare to experience such diversity of experiences, knowledge and perspectives.
"Who is Kevin Pettit? Scientist? Ethicist? Musician? It's difficult to pin down the diverse skills Kevin has gained during his four years on our campus. Instead, it's best to understand Kevin in terms of the unique aspects a liberally educated person brings to his community. In Kevin, we encounter a curious, rigorous, enthusiastic and compassionate human being. He has contributed to campus aesthetics via his music, to our larger Quad-City community via his work in assessing the strengths of a local hospital ethics committee, and to his future medical profession via first-class research at Baylor College of Medicine. Kevin is the kind of person our world needs — fully invested in life and generous in those abilities that enrich the lives of others."