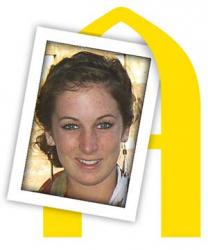 More Than I Imagined
Seniors reflect on accomplishments and look ahead
Jessica Dodds
Graduation year: 2012
Majors: Accounting and business administration-finance 
Minor: Spanish
Activities: Varsity soccer, Phi Rho sorority, Mortar Board, Business Club
Post-grad plans: Master of Accounting Degree program at University of Northern Iowa; begin work as an audit assistant at McGladrey & Pullen, LLP in the fall of 2013
Are you where you thought you'd be four years ago?
Coming into Augie, I did not have any set plans of what I wanted to do or where I wanted to be by graduation. Leaving Augie, I think I have put myself in a position that is much greater than I would have ever counted on, and I never expected to leave Augie knowing I have developed some of the most valuable friendships of my life. 
A peak experience?
I don't think I can pinpoint one peak experience. However, my opportunities to travel abroad were very valuable to me. I was able to study twice in Spain. I went to Salamanca in the summer of 2011. While we were there, we were able to experience the vivacity of Spain after they won the World Cup! I returned to Spain the following spring trimester to study Spanish in the city of Granada. My home-stay in Granada taught me so much about the Spanish culture. I also traveled around Europe with my soccer team after this study-abroad. I will never forget the people I met and experiences I had while traveling.
What did you learn about yourself in these past four years that surprised you?
I have learned how much I can change and grow in only a few short years. I am continually learning new things about myself. I've learned and am still learning how to push myself and how to recognize my limits. 
Advice for this fall's incoming class (Class of 2016)?
Be accepting of the unfamiliar. Try new things, and if it doesn't work out, try something else. You will be amazed by the people you meet and how much they can teach you. At the same time, keep in mind the importance of balance and try not to overload yourself. College is short so make time to do the things you love!
"Jessica is one of the brightest students I have had the privilege to work with in my 17 years of teaching accounting. She has taken full advantage of Augustana's liberal arts education by majoring in accounting and business, minoring in Spanish, studying abroad extensively and starring on the women's soccer team. Her contributions to our department as a tutor, office worker and participant in the Volunteer Income Tax Assistance program show her commitment to campus and public service. In short, Jessica is an outstanding representative of Augustana and a shining example of someone who made the most of her time here."