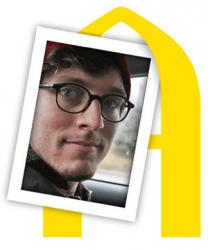 More Than I Imagined
Seniors reflect on accomplishments and look ahead
Jaron Gaier
Graduation year: 2012
Major: English
Minors: Philosophy, Africana studies
Activities: Farm2Fork, Global Affect, Augustana Interfaith Understanding, Augustana Symphony Orchestra
Post-grad plans: Farming, just outside of the Quad Cities; reading and writing
Are you where you thought you'd be four years ago?
No way — I guess I figured that I'd be reading and writing, but not doing stuff outside. Not farming. But I also hoped that I'd be graduating, and it looks like I am. So that's good.
What did you learn about yourself in these past four years that surprised you? 
I think I'm more creative in some ways than I thought — in terms of writing and viewing the world — and much less creative than I thought in some ways — in studying, for instance, and sleep patterns. I pretty much still need the eight hours.
A peak experience? 
While studying abroad in Ghana and Senegal, I had a slew of experiences that were especially momentous. I got to spend some time with great friends and faculty in a place that is amazingly different from here, learning all I could and soaking it all up.
Who helped you get to where you are now?
Professors have given me the right books to read, my friends and I have had all the right conversations, and my family has encouraged me to follow what I think is right.
What would you like to add that we didn't ask about? 
Although this borders on cliché — the learning hasn't (and shouldn't have and won't) stopped outside the classroom. I'm glad that I got off campus a lot, got to know the Quad Cities pretty well, and did some exploring.
Advice for this fall's incoming class (Class of 2016)? 
Be curious. Look around. Ask questions. Don't hesitate.
"Instability precedes sure-footedness. My sense — though I may be wrong about this — is that Jaron arrived at Augustana on somewhat wobbly knees. This isn't a criticism. He was "on to something," a searcher of the Walker Percy sort, when he entered the Honors program. And to be on to something means to be thrown off balance a little. So it has been fun to watch this young searcher come to himself — like Percy's characters, and like Dante before them. Jaron has achieved, by considerable effort, some real clarity — and, like all of us, he's become wobbly in new and interesting ways."