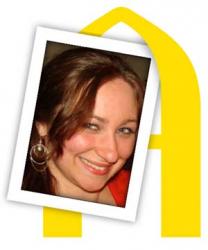 More Than I Imagined
Seniors reflect on accomplishments and look ahead
Jacquelyn Schmidt
Graduation year: 2012
Majors: English with writing emphasis; theatre arts
Minor: Art
Activities: Alpha Psi Omega National Theatre Honor Society, Omicron Delta Kappa National Leadership Honor Society, Peer Mentor Program
Post-grad plans: Continue my internship at Sage Products in Cary, Ill., where I have interned for the past four years
Are you where you thought you'd be four years ago?
I am nowhere near where I thought I would be. When I first came to Augustana, I only took a theatre class because it was something I had done in high school. I soon learned that theatre was one of my passions and that I needed to continue growing as an artist to fulfill the overwhelming desire to learn more. I also feared that I wouldn't have a solid plan for after graduation. Through my hard work during the past four years, three departments at Sage Products have inquired about continuing my internship after I graduate.
Who helped you get to where you are now? 
I am incredibly lucky to have such a supportive family. My parents never told me what I could and could not study in college — they simply warned me not to take on more than I could handle! My brother is two years younger than I am; he is more than just a brother, he is a friend. I also have had the opportunity to work with some phenomenal professors. Dr. Irelan was my advisor for my Senior Inquiry, and he helped me find a way to bring together all of my passions and fields of study into one cohesive project. Through our one-on-one discussions, he helped me grow as an artist and a scholar.
A peak experience?
My peak experience is definitely the culmination of my Theatre Senior Inquiry at the end of winter term. I did dramaturgical research for the spring production of Bat Boy: The Musical, and through my discussions with the director and designers, some of my ideas made their way into the design.
What did you learn about yourself that surprised you?
When I first came to Augustana, I was incredibly shy and had difficulty approaching a professor to ask for help or present an idea. The classes I have taken and the challenges I have faced at Augustana have helped me gain the confidence to articulate my ideas. I am now more comfortable talking to managers at work and am able to express my ideas in a professional manner.
Anything you'd like to add?
I participated in the Foundations honors program during my first year and continued with the program to complete the honors capstone my junior year. It was one of the most rewarding and amazing experiences I had in college. I learned so much about synthesizing disciplines. I have been in karate since I was 6 years old, and I was able to incorporate the disciplines of karate with what I learned to create an actor training program.
"Not only has Jacqui Schmidt excelled academically, she has consistently exhibited a love of learning. As a theatre arts major, Jacqui has been actively involved in virtually every area of production, both on stage and behind the scenes. As this year's president of our campus chapter of Alpha Psi Omega, she has spearheaded efforts to increase the number of theatre service projects performed by the group, making it one of the most active service organizations on campus."