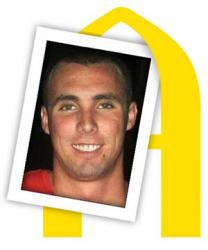 More Than I Imagined
Seniors reflect on accomplishments and look ahead
Davis Frease
Graduation year: 2012
Majors: Biology, pre-medicine
Minors: History, biochemistry
Activities: Phi Omega Phi fraternity, Greek Council Executive Board, Homecoming Co-Director, Dance Marathon Executive Board, Office of Student Activities, Omicron Delta Kappa National Leadership Honor Society, Order of Omega Greek Leadership Honor Society, Beta Beta Beta Biology Honor Society
Post-grad plans: 2012 Teach for America Corps Member in the Mississippi Delta
Are you where you thought you'd be four years ago?
Not even close. I don't think I'd even recognize myself (and that's a good thing). Also, I had no inclination I would be devoting myself to something like Teach for America, a cause I'm now fully vested in.  
Who helped you get to where you are now? 
First and foremost is Jesus Christ. Additionally, my family and my friends have always been there for me, encouraging me to make my dreams a reality. Ken Brill, the director of student activities, has helped me develop my leadership skills an enormous amount. And the faculty members in the biology, chemistry and history departments have all pushed me to be the best I can be academically. In particular, Dr. Calder in the history department has been a phenomenal resource for me and has truly gone out of his way to help me develop and succeed.
A peak experience?
The first thing that comes to mind is the unique opportunity I had to attend the U.S. Air Force Academy National Character and Leadership Symposium over spring break last year, an experience coordinated by Dr. Van Sandt of the business department and funded by the Institute for Leadership and Service. I met some truly incredible young men in my cadet hosts and had the chance to listen to inspiring heroes like Medal of Honor recipient Staff Sergeant Salvatore Giunta.
What did you learn about yourself in these past four years that surprised you?
It's the vast array of interests I have in a number of different disciplines. Classes I've taken outside of my major and minors have sparked my interest in such disciplines as economics, ethics and religion. 
Anything you'd like to add?
The Texas Medical Center Summer Research Internship Program, coordinated by Dr. Storl of the philosophy department, was a truly profound experience for me as an individual. The research I completed on pituitary tumors was the paramount academic experience of my undergraduate career. Additionally, the time I spent with my mentor, Dr. Ian McCutcheon of MD Anderson's Cancer Center, in the clinic and operating room, greatly altered my self-concept and instilled a new level of drive and motivation in me.  
What will you miss the most?
All of the amazing friends I've made here over the past four years.
"An Augustana student walks into a bar. This is not a joke — it's an anecdote of a meeting with Davis Frease last summer. 'Everyone says you need to go to medical school right after college,' he told me. 'So you're not going to do that,' I conjectured. 'No, not right away,' he said. And that's Davis in a nutshell: a serious man who senses what he could be, but not yet is. A man immune to conventional wisdom."