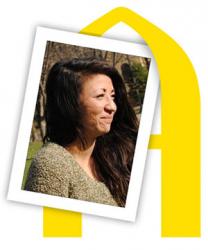 More Than I Imagined
Seniors reflect on accomplishments and look ahead
Ashley Higuchi
Graduation year: 2012
Major: English
Minor: Philosophy
Activities: Women's soccer, Heywire, The Redwood Movement, Phi Rho, Farm2Fork, Saga Art and Literary Magazine
Post-grad plans: Keep exploring
Are you where you thought you'd be four years ago?
Not even close…there are so many people and places that I could never have imagined I would be so much a part of.
What did you learn about yourself in these past four years that surprised you? 
A lot. The most resonating is probably how much I admire and try to maintain balance. I want to balance social life with serious stuff, individual time with group time. Keeping in touch with the ebb and flow of life and going with it, rather than fighting or complaining when work gets heavy or stressful. Life being hard is just as important as life being fun and at ease. You learn so much in both times.
A peak experience? 
This has got to be it — the eve of so many different projects that feel like a four-year process. Being co-editor-in-chief of the art magazine and sending our final spring edition to the printer in a week, the eve of the premiere of a fund-raising documentary art film that I co-founded and my last term with Phi Rho. Everything is wrapping up, and it feels like the hardest part of the climb, but I can't wait to look at everything from the top.
Who helped you get to where you are now?
All my friends, professors and coaches. It's hard to pinpoint one person. There are certainly pushers that stand out like Dr. Peters and Coach Mejia. And then there are perspectives from students that I will never forget from people like Hannah MacDonald and Kelly Johnson. But I feel that even the slightest encounters with so many different people have shaped the continually changing person I am right now.
What would you like to add that we didn't ask about?
The Redwood Movement started as an idea and was made into a reality, initially from passion and creativity, but was carried out and executed because of hard work and other people. If anything, Augustana has taught me that when there is a will, there is a way. Just make sure you know why you are doing something, so when the work gets hard, you don't quit. I love how I learned the importance of defragmenting my life through the liberal arts education.
Advice for this fall's incoming class (Class of 2016)? 
If you have the slightest inclination towards something, take a step in that direction and see where you end up. You don't climb a mountain by jumping to the top.
"I often speak to recruits about our engaged community at Augustana. Ashley Higuchi personifies that kind of engagement. Her impact on our soccer program cannot be quantified, and she will be sorely missed, but her contributions to the campus community as a whole is really what is impressive. Her leadership with The Redwood Movement is just one example, but a shining one, of how she has inspired others and left her mark on our campus. I am proud to say that Ashley has accomplished things at Augie that many can only dream of."