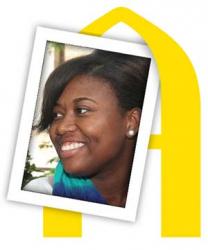 More Than I Imagined
Seniors reflect on accomplishments and look ahead
Ariel Edgeworth
Graduation year: 2012
Major: Communication studies
Activities: Black Student Union, Diversity Initiatives Committee
  
Post-grad plans: Master's program in college student personnel at Western Illinois University
Why did you choose Augustana?
I chose Augustana College because it was home to me. My father attended Augustana in the '70s, and I grew up attending campus community events. At the time I made my college decision, Augustana offered me not only a sense of comfort, but also a great academic financial aid package.
Are you where you thought you'd be four years ago?
Four years ago, I knew that I would be a different person at this stage in my life, but I did not realize how different I would be. I have developed an entirely new way of thinking and looking at things. Little things that used to seem so big to me are minuscule now. However, although my thinking has changed, I was able to maintain and strengthen my values as a person.
Who helped you get to where you are now? 
I definitely would not have made it through these past four years without the help of God. There were many times when I wanted to give up. God always reminded me that my purpose at Augustana College was far greater than just my education. Many others helped me as well. My parents were a great source of encouragement, and Dean Anderson, Greg Aguilar and the staff in the Community Engagement Center opened up many opportunities for me to be able to experience new things.
A peak experience? 
My peak experience was my internship at the Child Abuse Council as a doula intern. I provided support for first-time mothers and pregnant teens. I also assisted in prenatal support and education during home visits, and attended doctor's appointments with clients. This experience helped me to become a more humble person. I saw that there are many young people in the community who could benefit from the help of Augustana students.
What did you learn about yourself in these past four years that surprised you?
I can handle much more than I thought I could. Although challenging, I have learned how to manage my time.
What will you miss the most about Augustana?
I am going to miss just being on campus.  A lot of growth happened on this campus so it is going to be hard to leave all the memories behind.  
"Ariel has a meaningful, fun, challenging and rewarding future ahead of her! I have been encouraged by her brave and thoughtful comments in class, her passion for engaged learning, and her ability to cut through to the heart of the matter. She is a student of life, with heart and mind and spirit. Lucky us."