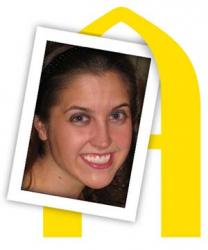 More Than I Imagined
Seniors reflect on accomplishments and look ahead
Amy Moon
Graduation year: 2012
Majors: Elementary education and Spanish
Activities: Sigma Pi Delta, Dance Marathon, Jenny Lind Choir, Omicron Delta Kappa
  
Post-grad plans: Teach in an elementary bilingual or dual-language classroom
Why did you choose Augustana?
When I first visited Augustana, I fell in love with our beautiful campus. I was also extremely impressed with Augustana's education department and the study abroad opportunities. Everyone I met was very genuine, and walking around campus, I could picture myself spending the next four years here, which would become the best four years of my life.
Are you where you thought you'd be four years ago?
I am in an even better place than I thought I would be four years ago. After graduation, I will be pursuing both my passion for teaching and my passion for Spanish by teaching in a bilingual classroom. Four years ago, I wouldn't have had the confidence to teach in Spanish, but my experiences at Augie have fully prepared me for this dream job. My time at Augie has also made me a better person. My inspiration to give back to others has really grown these past four years, and I know that my philanthropic work will still play a big role in my life.
Who helped you get to where you are now? 
My professors, especially in the education department, have helped me grow into a confident and passionate educator. They have taught me so much about myself and have prepared me extremely well for a successful teaching career. They genuinely cared about me as an individual and my success in the ed program, and they have inspired me to want to do the same for my students! I also wouldn't be where I am today if it weren't for my parents who have supported me every step of the way and who have always inspired me to follow my dreams.
A peak experience?
I've had so many unforgettable experiences that it's impossible to choose just one. My top three are: 1) Studying abroad in Cuenca, Ecuador, where I immersed myself in the Spanish language for three months, rappelled down a waterfall, ate guinea pig, lived with an amazing host family and spent three days in the jungle without running water or electricity! 2) Student teaching in a second-grade classroom at Garfield Elementary School and 3) Winning the Sing competition at Homecoming in 2009 with my Speed sisters! 
What will you miss the most about Augustana? 
I will definitely miss my best friends, sorority sisters and favorite professors who made Augustana a true home away from home and made these past four years completely unforgettable and absolutely incredible! 
"Amy will bring a truly special spirit and passion for learning to her own classroom as a teacher. We often talk about the fact that the best learners make the best teachers. At Augie, Amy has shown herself to be an outstanding student — curious, creative, always ready to contribute ideas and to argue for what she believes in, a true leader among her peers. She is destined for great things as an educator."