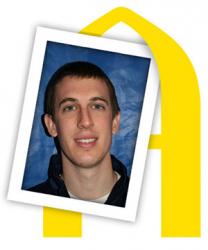 More Than I Imagined
Seniors reflect on accomplishments and look ahead
Adam DeSimone
Graduation year: 2012
Majors: Economics and mathematics
Activities: Varsity tennis, Student Athletic Advisory Committee, Athletes Giving Back
Post-grad plans: Doctoral program for economics at Michigan State University
Are you where you thought you'd be four years ago?
I'm in a completely different place than I thought I would be when I arrived at Augie. I initially wanted to study history and go to law school, but ended up doing neither. While I do not doubt that I would have enjoyed studying history and attending law school, I've been more than happy with the direction my studies have taken me.
A peak experience? 
The connections and friendships that I made were definitely the best parts of college. I especially enjoyed spending time with my teammates and peers. The professors were always available to talk when I needed them. It is those types of interaction that I think I will miss most in the years after I graduate.
What did you learn about yourself in these past four years that surprised you?
I was surprised mostly by my decision to be a math major. I took a couple of math classes as a freshman and just never stopped. At the end of my sophomore year, I realized that I needed only three more classes for the degree; that was when I officially made the decision to declare as a major.
Who helped you get to where you are now?
My teammates, classmates and professors were so important to me over the last four years. For instance, my economics advisor, Dr. Short, helped me with the graduate school application process. My classmates and I pushed each other to succeed in classes.
What would you like to add?
The Texas Medical Center Summer Research Internship Program (coordinated by Dr. Storl) was a truly defining academic experience for me. Prior to the biostatistics and medical decision-making research that I did at Houston's M.D. Anderson Cancer Center, I still did not know whether to pursue law school or an economics graduate program. That experience really took my interest in economics to a new level.
Advice for this fall's incoming class (Class of 2016)? 
College is what you make of it, especially at a liberal arts institution. If you enter with an open mind and a strong work ethic, you will be amazed at the connections you can make between multiple disciplines, and what you can learn about yourself in four years.
"Adam has been an invaluable player on the tennis team. He works extremely hard every day and never asks for time off. Through his commitment and positive attitude, he pushes those around him to be better. His teammates also recognize this as he was voted the most valuable player his freshman and sophomore year and voted team captain his junior and senior year."