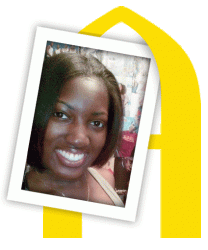 More Than I Imagined
Seniors reflect on accomplishments and look ahead
Vicki Owoo-Battlet
Graduation year: 2011
Major: Sociology
Minor: Psychology
Activities: CA for residential life, Majestic Hearts, Black Student Union
Post-grad plans: An internship at a counseling center, grad school and Ph.D. dreams
Are you where you thought you'd be four years ago?
I can only hope so! I know what I want for my future now, and that's a great feeling. Yet, the last two years have helped me realize that as you believe you have found your future niche, great blessings of insight from life filter in and guide you toward your fate. So I am looking forward to hopefully an amazing ride…toward being an experienced counselor!
What was your peak experience while you were here? 
Last year, when I became a CA and when I changed my major! Through my job, I was able to better realize my drive to understand how we as a people and society operate. My goal occupation of being a counselor was developed through that time.
What did you learn about yourself in these past four years that surprised you?
In the past four years, I learned that I am a lot stronger than I thought. When I lost my father at the end of winter term, I was hoping that I could get through the rest of my year, especially in memory of him. He was a major part of my source of strength with his divine wisdom! I've pushed myself through some difficult parts of this year without him through perseverance and MAJOR support. I've learned that asking for help is not wrong, and Augustana has been the best help with attempting to reach my academic goals.
Who helped you get to where you are now? 
My family. They are my rock and have given me the best support through the most stressful times of my life. My friends have not been bad either; they have allowed me to be myself and with that I've been motivated to do my very best.
Advice for this fall's incoming class?
Wow, PRIORITIZE YOUR TIME WELL! Augie will show you how important time management is and conquering this will take you very far here and in the real world.
"Vicki is a strong woman with a strong voice that is bolstered by her unshakable faith. Though her time here has presented her with some challenges, both personal and professional, she has emerged from them relatively unscathed. I have no doubt that her time at Augustana has prepared her for an exciting life journey, wherever it may take her."