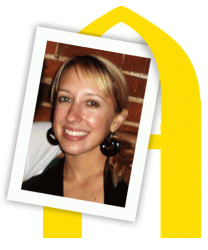 More Than I Imagined
Seniors reflect on accomplishments and look ahead
Sam Kalmar
Graduation year: 2011
Majors: Psychology and Spanish
Minor: Sociology
Activities: Cheerleading, Psi Chi/Psychology Club, Family Museum volunteer, Dance Marathon, Relay for Life
Post-grad plans: Pursue a master's in clinical-counseling psychology at Illinois State University
Are you where you thought you'd be four years ago?
Yes and no. I entered Augustana as a pre-dentistry/biology major, and I am graduating as a psychology and Spanish major so I've taken a different path than I originally intended. Despite the change in majors, I am still going to pursue an advanced degree, which has always been one of my goals. I also feel confident and well prepared for my future, which is exactly how I wanted to feel when ending college. Four years ago, I definitely did not have the same confidence and skills that I do now!
Your peak experiences? 
It's hard to pick, but I would probably say my time abroad on Latin America term and in Guatemala for the psychology department's 'Childhood in the Developing World' class. These experiences greatly influenced the direction I want to take in my career. Also, getting to immerse myself in different cultures was an eye-opening experience and definitely affected my outlook on life. Besides all that, it was just plain fun! We did everything from climbing Machu Picchu to eating guinea pig to zip-lining in the rainforest. The people I traveled with were also amazing, and the experience wouldn't have been the same without them. Studying abroad with others creates a unique bond that is hard to understand unless you were part of that group.
What did you learn about yourself in these past four years that surprised you?
I don't think there is one specific thing I learned about myself that surprised me. It's more that I'm surprised by how much of a different person I am now than when I started college. I'm still basically the same person, but many of my beliefs have changed and the way I look at and interpret the world has been profoundly affected by my experiences during college.
Who helped you get to where you are now? 
My parents definitely played a huge role in where I am now. They have always helped me out in whatever way they could — whether it was giving me $20 so I could go out for dinner when I was sick of cafeteria food or supporting me when I decided to travel to foreign countries for 10 weeks, even though it probably terrified them. As far as Augustana goes, the professors in the psychology department played a tremendous role in my college career. Their enthusiasm led me to change my major and after that switch, they continued to help me reach where I am now. They gave me encouragement regarding grad school, let me be a student worker in the department (thanks Dr. Vincent!), listened to me complain when I thought my Senior Inquiry would drive me crazy (thanks Dr. Mull!) and, most importantly, gave me the tools to succeed in the field of psychology through their wide range of interests and knowledge and their passion for what they do.
"To me, Sam is the quintessential liberal arts student in the breadth of her interests and exemplifies the ideals of leadership and service presented in Augustana's mission statement."