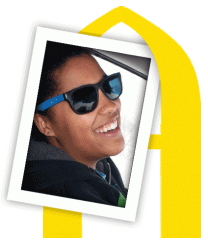 More Than I Imagined
Seniors reflect on accomplishments and look ahead
Rachel Stearns
Graduation year: 2011
Major: Business administration-management
Minors: Music and theatre
Activities: Advertising Developers, MPB, college Union Board of Managers, OSA, Chi Omega Gamma, Majestic Hearts, Office of Admissions, Office of Multicultural Services, peer mentor
Post-grad plans: Intern at a music agency and/or work with children at a day camp.
Are you where you thought you'd be four years ago?
I think I am. I have changed a lot and grown a lot, and overall I am proud of who I am now. I am ready to graduate from college and am happy for the opportunity to move on to the next stage in my life.
Your peak experience?
I have loved everything I have learned and done with the ADs group as well as any and all activities through OSA. For ADs specifically, I loved the opportunity to learn the ins and outs of the business world with a small group of people. I have competed in the National Student Advertising Competition for the past four years, and I really enjoyed traveling to Detroit to present our proposal and discover what other schools are doing.
What did you learn about yourself in these past four years that surprised you?
I learned that I can do anything I want if I put my mind to it, and it's OK to be selfish and go after what you want.
Besides your family, who helped you get to where you are now?
God and my friends have made a huge impact in my life. Just as Philippians 4:13 says, 'I can do all things through Christ who strengthens me.' I believe this to be so true; thus when times get tough I know I'm not alone because I follow the Lord. My friends help me keep my priorities straight and are always there for me when I need help. I would not be the same without the impact they have made on my life.
Advice for this fall's incoming class (Class of 2015)?
Figure out what, and go after it.
"The opportunity to participate in the ADs group for multiple years has greatly added to Rachel's professional portfolio. Her experience doing work for companies like State Farm and JC Penney will look good to any employer."