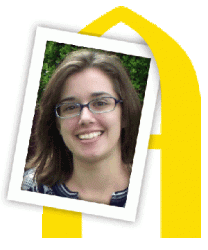 More Than I Imagined
Seniors reflect on accomplishments and look ahead
Natalie Markoich
Graduation year: 2011
Major: Teaching Spanish
Activities: Latinos Unidos, Augie READS
Post-grad plans: Teach English abroad
Are you where you thought you'd be four years ago?
In some ways, yes — but I never expected to think the way that I am capable of now. By working my way through the education department's program, I feel that I can approach any problem with an open mind and find a variety of solutions to help solve it. Additionally, my Spanish classes have allowed me to explore ideas and perspectives I have never experienced before.
Your peak experience?
My time in Latin America was my peak experience. I spent almost three months in Ecuador, Peru and Mexico. In that short time, not only did I learn about the cultures and histories of those countries, but I also learned a lot about myself and what I am capable of.
What did you learn about yourself in these past four years that surprised you?
I've found that I'm a lot more capable than I had originally thought. Now I balance classes, clubs, jobs and outside research and study requirements without giving up much free-time to see my friends and family.
Besides your family, who helped you get to where you are now?
I would have to thank many of my friends for encouraging me to participate in different organizations and experiences here at Augustana and in the Quad City community. By participating in these activities, I was able to gain a real sense of belonging and home here.
Advice for this fall's incoming class?
Don't be afraid of taking advantage of what Augustana has to offer! Find what you enjoy doing and do it!
Anything you'd like to add? 
Since arriving at Augustana, I've found the opportunity to study many things outside of my major. Besides Spanish and education, I've chosen to take classes in philosophy, history, art and political science because I was interested — and it is through these classes that I've learned some of my most valuable lessons.
"Natalie was an outstanding first-year student, but she has really grown up in these four years, too. It is an absolute pleasure to work with students who are as motivated, dedicated and nice as she is. Natalie will make an excellent teacher for many reasons, but especially because her passion for Spanish is contagious. ¡Te deseo la mejor suerte del mundo en el futuro!"