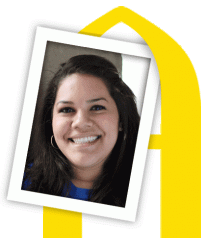 More Than I Imagined
Seniors reflect on accomplishments and look ahead
Lizeth Galarza
Graduation year: 2011
Major: Biology
Minor: Sociology
Activities: Ladies of Vital Essence, Latinos Unidos, MPB, ACHOO/Jets
Post-grad plans: Pursue a master's in public health (community health) and eventually a Ph.D. in biobehavioral health.
Are you where you thought you'd be four years ago?
I actually was set on being a doctor when I came to Augustana. That is one of the many advantages of obtaining a liberal arts education; it allows you to explore different vocational venues. I eventually realized that I could do great things with my talents. That is why I decided to pursue a career in public health.
What did you learn about yourself in these past four years that surprised you?
As a first-generation college graduate, coming to Augustana has been a tremendous accolade for me. I have accomplished and have excelled at many things at Augustana that my counterparts will not be able to experience in their whole career.
Your peak experience while you were here?
My experience in Nicaragua on a service medical trip has been by far the most life-changing. On this trip, I would do public health home visits in a few of the impoverished rural towns that surrounded the bigger cities of Nicaragua. In my last home visit, I met the most charismatic 96-year-old woman, and before I left, she said to me, 'Thank you for not forgetting about us.' A 96-year-old woman who has numerous chronic diseases and lives in a house made out of palm leaves and scrap metal was thanking me for taking a five-minute ride in an air-conditioned bus to visit her. Her gratitude will serve as one of my many motivators to continue a career in public health. I will never forget her words, and I have made it my mission to make sure that people like that 96-year-old Nicaraguan woman does not feel forgotten, at least when it comes to their health.
Who helped you get to where you are now? 
My mother has always served as a positive image of a strong, independent woman, and I have always strived to be that in all aspects of my life. Along with her inspiration, she has always pushed the importance of education, and she has made many sacrifices to make sure I continue to pursue my educational dreams. Another woman who I could never forget to mention is Dr. Dara Wegman-Geedey, my biology advisor, who has been my greatest supporter at Augustana.
Advice to this fall's incoming class (Class of 2015)?
Take advantage of all the opportunities Augustana has to offer because believe me, the opportunities are endless here at Augie. Thus far, Augustana has truly given me the best four years of my life.
"Lizeth is an amazing young woman. She participated in our Australian internship program and worked with a public health team there and used that experience as a springboard to apply for (and receive!) one of our prestigious Texas Medical Center internships during the summer of 2010. Our affiliation allows us to place qualified students in a variety of internships in a Houston-area healthcare consortium, and Lizeth was our first public health intern. They were very impressed with her work and are asking for more like her if/when we have them!"