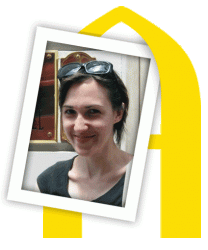 More Than I Imagined
Seniors reflect on accomplishments and look ahead
Lindsey Haines
Graduation year: 2011
Majors: Classics and English literature
Activities: Eta Sigma Phi Classics Honor Society, Collegia Classica (classics club), Handel Oratorio Society, Ekklesia Greek New Testament reading group, WVIK APRIS (Agusutana Public Radio Information Service) volunteer
Post-grad plans: Ph.D. in Classics, University of Cincinnati
Are you where you thought you'd be four years ago?
Four years ago, I never, ever would have imagined being where I am right now. At that time, I didn't even know what Classics was, I vowed I would never be a teacher, and I was terrified to live away from home. Now I'm going on to graduate school to become a Classics professor, and I live in my own apartment!
Your peak experience?
My peak experience was this year when a paper I had submitted was selected for presentation at the Classical Association of the Middle West and South conference this spring.
What did you learn about yourself in these past four years that surprised you?
I was surprised to learn what a strong person I am. Through both coursework and personal relationships, I discovered this well of strength in myself that I just didn't know existed.
Who helped you get to where you are now?
My family has been the best support I have had these past four years. They've stood behind all my decisions, and helped me figure out where to go when I was feeling lost.
Advice for this fall's incoming class?
I would recommend that they take plenty of courses outside their major and minor areas (provided that they are still keeping track of their gen. ed. requirements!). Some of my most rewarding classes at Augustana have been the ones I took only because they sounded interesting.
Anything you'd like to add, such as research interests?
My research interests lie in the intersection of gender studies, literary theory and Classical literature. It is my career goal right now to become a Classics professor and, honestly, I would love to come back some day and teach at Augie!
"Lindsey is the only undergraduate accepted for graduate studies in Classics at the University of Cincinnati this year—one of the world's top-ranked programs for Ph.D.-level studies in Classics. She's a special one."