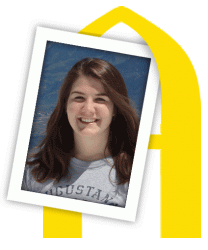 More Than I Imagined
Seniors reflect on accomplishments and look ahead
Kimberly Joslyn
Graduation year: 2011
Major: Instrumental music education
Activities: Symphonic Band, Symphony Orchestra, Concert Band, Improvisation Ensemble, Sigma Alpha Iota
Post-grad plans: Middle school music teacher at Gyeonggi-Suwon International School in Suwon, South Korea.
Are you where you thought you'd be four years ago?
I am! Music education is one of those majors that you have to start early. I had no idea I'd be teaching in Korea though! :)
Your peak experience?
I studied abroad in Vienna, Austria, when I was a sophomore. I've always been a traveler so I made it a priority to find a program for me while I was in school. Not only did I have the chance to visit nine countries in three months, but I also met some of my best friends and made memories that will last a lifetime. Learning about Viennese culture, language and art while actually in the city is a feeling that can't be described in text books.
What did you learn about yourself in these past four years that surprised you?
That I can be outgoing! I used to be very shy, but being in such a great environment really helps pull people out of their shell. Somehow I made the transition from giving a nervous speech in front of 10 people to leading hour-long rehearsals of 90 students with complete confidence.
Besides your family, who helped you get to where you are now?
I could not have gotten where I am today without the friends that I've made at Augie. My friends have always been there for me and helped me get through the biggest disappointments and the toughest decisions. The faculty are equally as inspiring and really want to see each of their students succeed. There are so many great, supportive people here that make the experience fun and worthwhile.
Advice for this fall's incoming class?
Get involved in as many activities as you possibly can. You will be so busy, but it's worth it! Join a bunch of clubs, a sorority/fraternity, study abroad, be a CA. The opportunities that you'll have in the next four years are unique and may not be available once you're out in the real world. You'll meet amazing people and learn a lot about who you are.
Anything you'd like to add? 
When I came to Augustana, I knew that I wanted to play in the Symphonic Band. I expected it to be similar to band in high school; we'd play great music, go on tour and maybe play at a basketball game or two. I had no idea though that it would be so much more than that. I found a family in this group, and a role model in Dr. [James] Lambrecht. I have so much love and respect for everyone in the band, and our close-knit relationship is what makes us play so well together. It has been an amazing four years, and I will never forget how much passion we put into every note.
"During this time of state and federal economic challenges, I believe any education student offered a job in March feels very blessed and relieved. Kim has always had a desire to teach music in another culture so, for her, this is the perfect culmination to her studies at Augustana. Everyone in the Department of Music is thrilled for her."